Featured policy documents
Image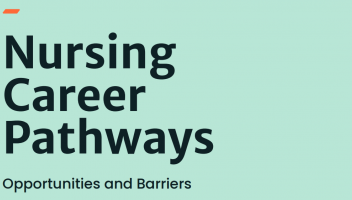 RNAO's Nursing Career Pathways Report - 2023
A strong and vibrant nursing workforce is the key to a well-functioning health system and a healthy population. To ensure the health and wellbeing of Ontarians, government must dedicate full attention to nursing and provide adequate and sustained funding and supports, argues a new report by the Registered Nurses' Association of Ontario (RNAO).
Image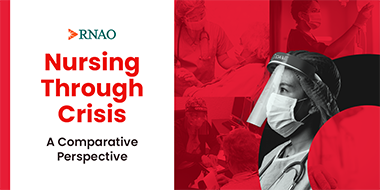 Nursing Through Crisis: A Comparative Perspective
RNAO carried out a detailed survey from May to July 2021, during the height of Ontario's third wave. Responses from 5,200 Canadian nurses, most of them from Ontario, were analyzed and compared with the association's earlier Work and Wellbeing Survey Results report, as well as with similarly focused national and international surveys that examined the struggles of nurses working throughout the pandemic.
Image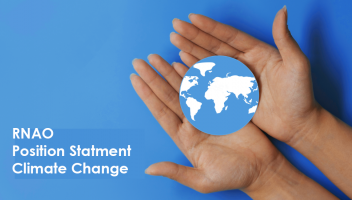 Climate Change Position Statement
The Registered Nurses' Association of Ontario (RNAO) recognizes that climate change is an immediate and growing threat to human health. We are in the midst of a climate emergency. Around the world, weather disturbances are causing historic droughts, raging wildfires and severe population dislocation. Temperatures are rising faster in Canada than the global average. By 2020, Canada was 1.8°C hotter than it was in 1948.1 Human activities are driving this climate change, mainly by increasing emissions of greenhouse gases (GHG).
The fight against climate change demands urgent and sustained action from international, national and sub-national levels of government to mitigate a looming humanitarian catastrophe.