Best Practice Spotlight Organizations (BPSO)
What is a Best Practice Spotlight Organization?
Best Practice Spotlight Organizations®
The Best Practice Spotlight Organization® (BPSO®) designation was launched as a key knowledge translation strategy in 2003 and is targeted to support best practice guideline (BPG) implementation, rapid learning and evidence-based practice sustainability at the individual, organizational and health system levels to optimize clinical and health outcomes. BPSOs have been established across Ontario and throughout the world, in all sectors. BPSO designation is an opportunity for health service and academic organizations to formally partner with RNAO over a three-year period to achieve designation. Following this period, the partnership is renewed biennially, based on the achievement of required deliverables. The goal is to create evidence-based practice cultures through systematic implementation and evaluation of multiple RNAO clinical BPGs.
BPSO Types and Models
There are over 900 BPSOs provincially, nationally and internationally. There are two types of BPSOs, and several BPSO models to consider for organizations interested in applying to become a BPSO (see table below).
Table 1. BPSO Types and Models
Types of BPSOs
Models of BPSOs
Service BPSOs:
Focus on evidence-based practices to impact patient outcomes. This includes all sectors across the continuum of care.
The BPSO Direct Model:
Best suited for single organizations wishing to apply to RNAO to engage in the three-year partnership. These organizations work directly with RNAO to meet the BPSO requirements of designation.
Academic BPSOs: Focus on evidence-based nursing education and the integration of BPGs into the curriculum to impact student learning and patient outcomes.

BPSO Host Model (National, Regional or Specialty): Best suited for organizations that have a capacity to supervise, on behalf of RNAO, the full BPSO designation program for a group of health and/or academic settings within a country, region, community or particular specialty. In this model, the BPSO Host enters into a formal agreement with RNAO to deliver and oversee the RNAO BPSO designation in the country or region where it is located. The BPSO Host is responsible for selecting their BPSO Direct organizations; providing orientation, education and support; monitoring progress; and evaluating outcomes.


BPSO OHT: In response to health system transformation in Ontario, a BPSO model for Ontario Health Teams (OHTs) has been established. This model is designed to support OHT partners across the continuum of care to achieve the quadruple aim of improved patient outcomes, improved patient experience, cost effectiveness and an improved provider experience (Figure 1). The goal of the BPSO OHT model is to optimize patient outcomes through evidence-based practice and robust staff engagement across the full continuum of care including all disciplines and all sectors. BPSO OHTs are actively supported by RNAO and organizations throughout the BPSO OHT network to systematically implement evidence-based best practice guidelines (BPGs) that align with government and each OHT BPSO priorities, with a focus on person-and family-centred care and care transitions.
BPSO Hosts and BPSO Direct Organizations outside of Ontario, regardless of their location, are fully supported by RNAO with methodology, materials and ongoing mentorship; but do not receive any funding from RNAO.
Figure 1. The Quadruple Aim: How the BPSO Program Supports Organizations Achieve the Quadruple Aim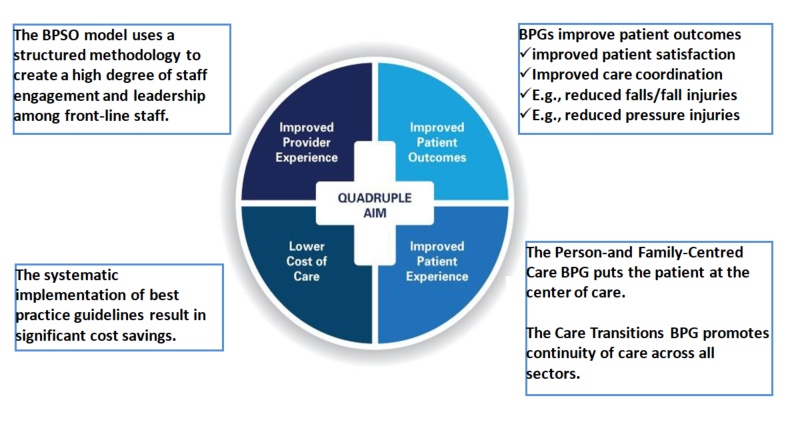 Multilevel and Multifaceted Implementation
RNAO provides a cutting-edge multilevel and multifaceted approach to implementing BPGs in order for BPSOs to achieve sustainable change in practice.
BPSO Coaching and Consultation
The BPSO Host Coaches, including the RNAO Coaches working with BPSOs directly, use the RNAO (2012) Toolkit: Implementation of Best Practice Guidelines to guide their regular consultative sessions. This assists BPSOs in making progress to achieve the BPSO requirements and deliverables over the 3-year period prior to designation. These deliverables are monitored by the BPSO Hosts and by RNAO for their BPSO Directs.
BPSO Coaches use a variety of approaches to support BPSOs in both the pre-designate and designate period in their quality improvement efforts.  These include regular meetings with Coaches and BPSO leads, scheduled presentations to BPSO knowledge exchange networks, semi-annual myBPSO reports and data submission to the NQuIRE® database.
Best Practice Champion Network®
The Best Practice Champions Network was established in 2002.  It consists of thousands of nurses and other health providers, within Ontario and globally, in all roles and health sectors, who are passionate about evidence-based practice and improving care and health.  These champions are dedicated practitioners who raise awareness of BPG's, have an understanding of change management processes, motivate their colleagues, and influence the uptake of BPGs among workplace peers.
Get more information about the Best Practice Champions Network.
Best Practice Guidelines Institutes
RNAO delivers, locally and internationally, week-long professional development programs that focus on guideline implementation and evaluation.  These institutes include two that provide foundational and advanced knowledge about using RNAO BPGs to create evidence-based cultures; and two that focus on specific topics such as wound care and program planning
Get moreinformation about the BPG Institutes.
BPG Order Sets™
RNAO's BPG Order Sets are evidence-based interventions and clinical decision support resources derived from the RNAO's clinical BPGs. They enable the integration of the best available evidence into daily clinical practice using technology to facilitate access at the point-of-care. BPG Order Sets support the evaluation of guideline implementation by providing a mechanism to link specific interventions to corresponding evidence-based NQuIRE indicators.
Get more information about the BPG Order Sets.
Evaluation
The BPG Program monitors and evaluates – through NQuIRE and myBPSO Reports – the process of guideline implementation, and the resulting patient, health provider, organizational and health system outcomes
Nursing Quality Indicators for Reporting and Evaluation®
The NQuIRE data system consists of: a database, an on-line data entry system, a collection of data dictionaries, including a set of organization-level structural indicators as well as a set of process and outcome indicators for each BPG and data collection and reporting processes.
Through NQuIRE, RNAO collects, analyzes and reports quality indicator data submitted by health service organizations participating in the BPSO program. NQuIRE supports BPSOs to make effective and sustained practice improvements by providing organizational BPG-directed care processes and resultant clinical outcomes. With NQuIRE data reports, BPSOs are able to track their progress by linking evidence-based practice with quality-of-care outcomes, supporting rapid learning and quality improvement to optimize clinical, organizational, and health system outcomes.
By monitoring, evaluating and reporting quality improvements in evidence-based care across the globe, NQuIRE is producing BPSO-validated and endorsed quality indicators that will contribute to sustainability, and enhance understanding of the full impact of evidence-based practice on health quality outcomes.
Get more information about NQuIRE.
myBPSO Reports
Another key element of the RNAO's BPSO Evaluation Model is the myBPSO report that each BPSO, whether provincial, national or international, submits twice per year during the pre-designate phase and annually for designate organizations. These reports provide an opportunity for BPSO leads, champions and teams to reflect on their progress towards achieving the BPSO deliverables, and results in a documented story of their evolution as a BPSO. The standardized, online myBPSO template asks questions about organizational demographics as well as key deliverables related to capacity development, implementation, evaluation, dissemination and sustainability planning. The database of qualitative data resulting from the submission of myBPSO reports provides RNAO and its BPSO partners a mechanism to analyze qualitative outcomes, and identify areas to continuously strengthen the program. The RNAO BPSO team, including BPSO Coaches and evaluation specialists, review each report and meet with every BPSO individually to provide feedback and linkages to resources to support rapid learning and improvement.
Additional Resources
In addition to the BPSO Coaching and Consultation, Best Practice Champion Network, BPG Institutes, NQuIRE and myBPSO Reports, all BPSOs have access to the following resources (click on the link for more information):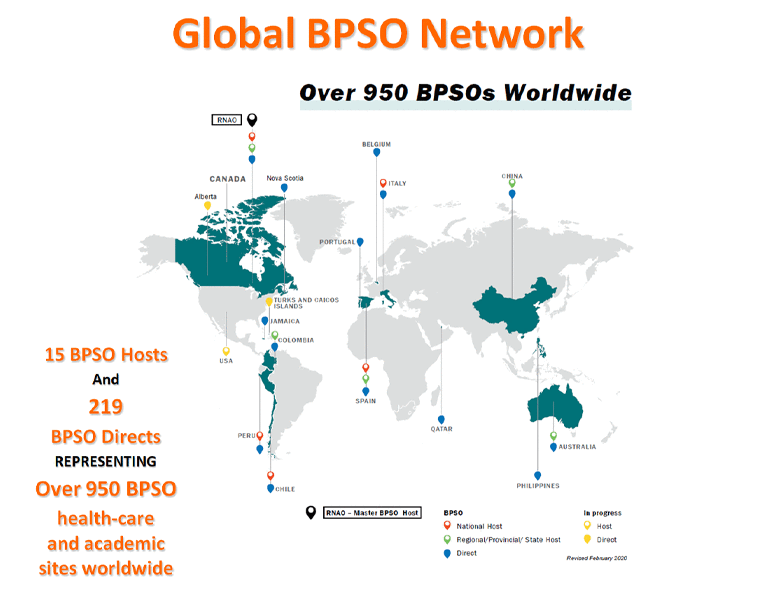 BPSO Organizations
A
B
C
D
E
F
G
H
J
K
L
M
N
O
P
Q
R
S
T
U
V
W
Y