On this page:  Legal protection | Member savings | Career development | Staying connected 
RNAO offers many money-saving benefits that can more than offset your membership fees. Explore the menu options to find out how to make the most of your membership!
Since 1925, we have advocated for healthy public policy, promoted excellence in nursing practice, increased nurses' contribution to shaping the health system, and influenced decisions that affect nurses and the public they serve.
RNAO boasts more than 50,400 RNs, NPs and nursing student members in Ontario and abroad. RNAO members benefit from membership in a variety of ways.
Join a community that makes a difference!
Image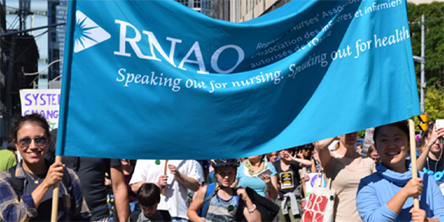 Image

Insurance programs
RNAO members enjoy member-exclusive savings on a comprehensive range of insurance programs.
Image

RNAO Affinity Mastercard Program
Identify yourself as a member of your professional association and show your pride as an RN.
Image
Mortgage savings
A a member of RNAO, you are entitled to receive exclusive rates and discounts.
You automatically become a member of an RNAO chapter when you join the association. Chapter activities at the community level provide a forum for dialogue and exchange with your colleagues.
Also, as a member of RNAO, you have the opportunity to join any of RNAO's many interest groups (IG). Active participation in one or more IG provides opportunities to meet and discuss with your peers whose areas of expertise in nursing practice are similar to yours. IGs also provide benefits to their members such as newsletters, advocacy, workshops and conferences.
RNAO members enjoy discounts on fees for conferences, workshops, chapter events and more. 
Members enjoy preferred rates for RNAO conferences, workshops and institutes.
Members are welcome to access any of RNAO's education funding programs. A number of RNAO's IGs and Region 6 fund awards and/or scholarships to RNAO members that are administered through Registered Nurses' Foundation of Ontario (RNFOO). Get information on education funding programs. Join RNAO now!
RNCareers.ca is the official career site of the RNAO and the first online career board that was created exclusively to meet the needs of the Ontario nursing professional.
RNCareers.ca specializes in all levels of nursing across all health sectors. It contains listings for clinical and non-clinical positions for RNs, NPs, RPNs, PSWs and other health professionals. 
This award winning e-newsletter is updated monthly and is aimed at registered nurses, nurse practitioners and nursing students who belong to their professional organization.
RNJ is a benefit of membership with RNAO, which means visitors must be registered with myRNAO.ca to enjoy all of the content on the new platform. Visit RNJ.RNAO.ca for full access to features, profiles, columns, news, and our much-loved What nursing means to me section. Read the most up-to-date content, or search for back issues of the print publication, dating to early 2018.
Recruitment rewards
Image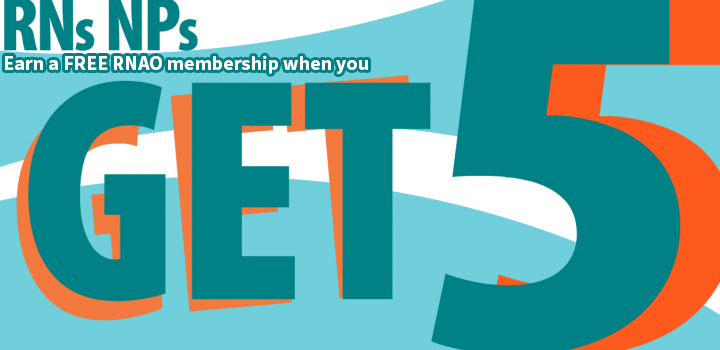 Get 5
Pass these savings on to five RN/NP colleagues or friends and get your membership free:
How?
All you have to do is show five of your colleagues the benefits of belonging to your professional nursing association. All they have to do is provide your RNAO recruiter number when they sign up.
Why should they sign up?
RNAO is an effective advocate for nurses and their work. With each new member the RNAO gains a stronger voice that influences policy, working conditions and politics at the highest levels.
Put this money towards your membership renewal or one of RNAO's great conferences and courses!
Want to take advantage of this offer?
Reach out to your colleagues and invite them to be a part of the more than 50,400 member strong alliance speaking out for health care and nursing in Ontario.
All you have to do is give your friends and colleagues your RNAO recruiter number for them to use when they sign up! 
Look out for the "Get 5" email coming from RNAO in your inbox!