On this page:  Student opportunities | Get involved | Career paths | Resources
RNAO student membership provides a number of valuable benefits, including:
Career counselling and resources
Best practice guidelines (BPG)
Political influence and action
Networking opportunities with RNs, NPs and other nursing students
Involvement at provincial, local or interest group (IG) levels
Recruitment rewards
Student opportunities
Graduate Student Practicum Opportunity
Practicum students will be assigned a preceptor for the duration of the placement. Students are expected to develop a learning plan based on individual learning requirements and project deliverables. Practicum students are required to be a RNAO member to be eligible for placement.
---
RNAO board of directors student placement 
The RNAO board of directors (BOD) student placement takes place three times per year – in the winter, summer and fall. The goal of the placement is to expose nursing students to RNAO's operations, initiatives, strategic direction and critical issues that impact nursing, health and health care. Each placement offers students the opportunity to participate in a general RNAO orientation, an RNAO BOD meeting and other RNAO-related events.
RNAO orientation provides a forum for students to meet with RNAO staff from various departments. There are plenty of opportunities for questions and discussion. Other RNAO-related events include the RNAO assembly of leaders, Annual General Meeting, annual Queen's Park Day, IG chairs meeting and chapter presidents meeting. Events differ depending on the time of year. You must be an RNAO undergraduate nursing student associate or RNAO regular member in good standing in order to attend the BOD student placement. Students not already RNAO associates or regular members may apply for membership concurrently.
Our upcoming BOD Student Placement will be held on Wednesday Nov. 15, 2023 - Saturday Nov. 18, 2023.  Registration is now closed.
Please stay tuned for future BOD Student Placements:
Queen's Park Day:  Wed. Feb 28 - Sat. March 2, 2024.
AGM - Wed. June 19 - Sat. June 22, 2024
For more information, contact Judy Liou at jliou@RNAO.ca.
Image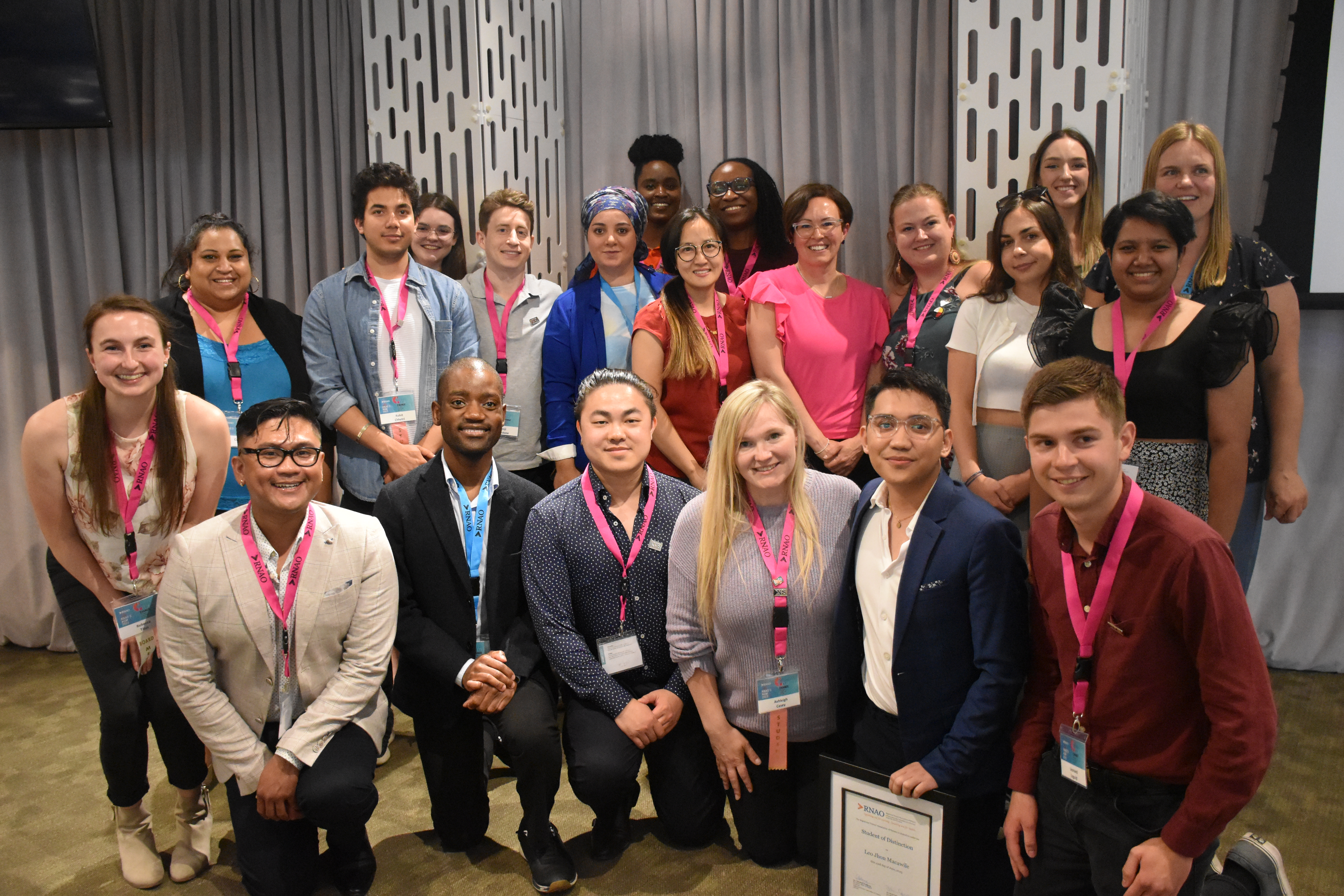 ---
Student ambassadors
Looking for a way to get more involved at RNAO as a student?
Student ambassadors represent RNAO on nursing school campuses. They are the association's point of contact and the link between a school's nursing student body and RNAO's home office.
RNAO student ambassadors promote membership benefits, opportunities, and current initiatives and campaigns. They encourage student membership as a valuable career choice and encourage participation at the provincial and local levels.
For more information, contact Judy Liou at jliou@RNAO.ca.
Image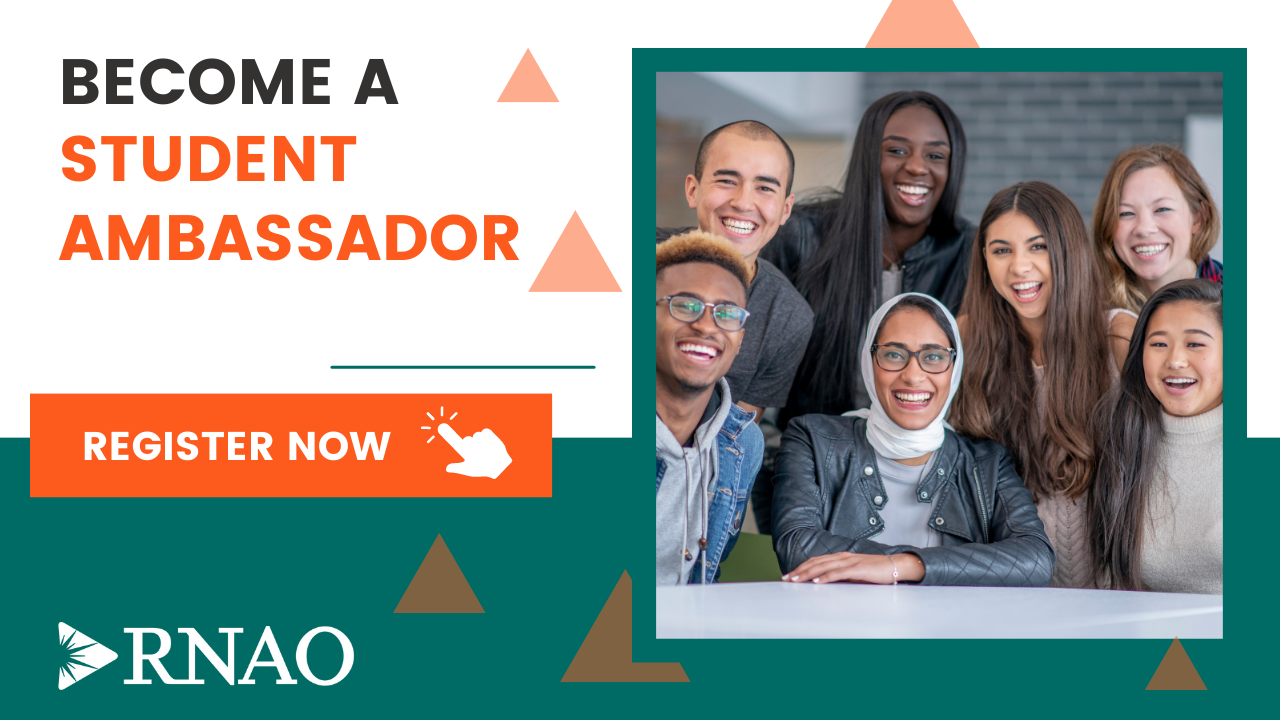 ---
Get involved
The Nursing Students of Ontario (NSO), is a student-governed IG of the RNAO. NSO represents and acts as a resource for Ontario nursing students. It focuses on theirs needs and concerns. NSO currently consists of 8,000 student members across the province.
You automatically become a member of an RNAO chapter when you join the association. Chapter activities at the community level provide a forum for dialogue and exchange with your colleagues.
Also, as a member of RNAO, you have the opportunity to join any of RNAO's many IGs. Active participation in one or more IG provides opportunities to meet and discuss with your peers whose areas of expertise in nursing practice are similar to yours. IGs also provide benefits to their members such as newsletters, advocacy, workshops and conferences.
RNCareers.ca is the official career site of RNAO and the first online career board created exclusively to meet the needs of Ontario nursing professionals.
RNCareers.ca specializes in all levels of nursing including clinical, non-clinical, staff nurse, management, executive and administrative roles for NPs, RNs, RPNs, PSWs and other health professionals across all health-care sectors.