On this page:
Host | Program | Resolutions | Voting | Awards | AGM 2022 recap | Sponsors
For the first time since 2019, RNAO's 98th Annual General Meeting (AGM) was held in person on June 22 – 24, 2023 at Toronto's Hilton hotel.
To explore nurses' experiences over the past year, the theme for our AGM is Change through Unity and Action. This is a chance for RNs, NPs and nursing students to gather in person to reflect on learnings from the past year and look ahead at the opportunities to improve the nursing profession for the current workforce as well as the next generation of nurses.
Greetings from world nursing leaders
Watch the AGM greetings from Sigma President Ken Dion. 
Image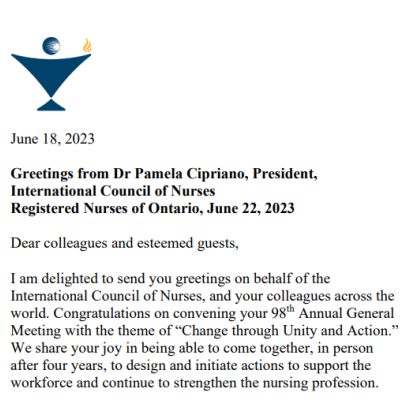 Read the letter from ICN President Pamela Cipriano. 
Watch again
Re-live the RNAO's 98th AGM. Click the button below to see everything that happened at this year's AGM.
Image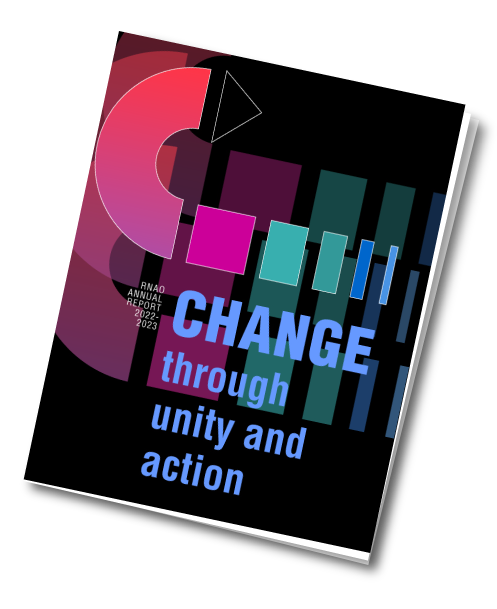 CHANGE THROUGH UNITY AND ACTION
Our report's theme describes our collective work over the past 12 months and how the unity of our 50,400 members represents a formidable force when mobilizing for action.
Day 1 - Thursday, June 22, 2023
---
Image

 6 - 7:30 p.m. ET
Opening Ceremonies (Livestreamed)
Opening remarks from hosts - Nursing Students of Ontario
Greetings from Ontario's political leaders
- Hon. Doug Ford, premier of Ontario, Progressive Conservative Party of Ontario and MPP for Etobicoke North (video message)
- Hon. Sylvia Jones, deputy premier and minister of health, Progressive Conservative Party of Ontario and MPP for Dufferin—Caledon
- Hon. Paul Calandra, minister of long-term care, Progressive Conservative Party of Ontario and MPP for Markham—Stouffville (video message)
- Marit Stiles, leader of the Official Opposition, Ontario New Democratic Party and MPP for Davenport
- Mike Schreiner, leader of the Green Party of Ontario and MPP for Guelph
- John Fraser, interim Party Leader of the Ontario Liberal Party and MPP for Ottawa South
Greetings from our nursing colleagues
- Ken Dion, Sigma president (video message)
Celebrating our Best Practice Spotlight Organizations (BPSO®)
Closing remarks
Image

 7:30 - 8:30 p.m. ET
Stakeholder Wine & Cheese Reception (cash bar) 
Day 2 - Friday, June 23, 2023
---
Image

 8:30 a.m. - 4:30 p.m. ET
98th AGM (Livestreamed)
Opening remarks
Chief executive officer report
Provincial and standing committee reports
Results of One member, one vote
Members' Voices
Consultation session – 2023 proposed resolutions
Introduction of 2023-2025 board of directors
President's report
Closing remarks ​​​​
Image

 12:15 - 1:30 p.m. ET
Student Leadership Luncheon – hosted by Nursing Students of Ontario 
Dr. Leigh Chapman is pleased to join RNAO's Student Leadership Luncheon to discuss her role as federal chief nursing officer. She will share information on the priorities for her role that pertain specifically to nursing students, the cross-Canada engagement that she has completed to date, and the importance of nursing retention in optimizing the working conditions for nurses in Canada.
Image

 6:30 - 10 p.m. ET
President's Banquet
Presentation of Recognition Awards and Media Awards
Live entertainment
Day 3 - Saturday, June 24, 2023
---
Image

 11:30 a.m. - 1:30 p.m. ET
Closing Keynote Presentation: RNAO Health Equity In Focus consortium (Livestreamed)
Topic: Have you ever been discriminated against? A participatory session for reflection and action
RNAO's Health Equity In Focus consortium will lead the closing keynote panel at this year's Annual General Meeting. The consortium brings together RNAO's health equity interest groups and staff to drive deep and sustained change. It provides a supportive environment for the chairs and executives of the Black Nurses Task Force, Black Nurses Leading Change, Indigenous Nurses and Allies and the Rainbow Nursing Interest Group to reflect on and address inequities in the nursing profession and health system. 
Panel members will discuss lived experiences with discrimination, with a focus on the structural and policy changes needed to dismantle systemic racism and other forms of discrimination in the nursing profession. They will also address how to create safe spaces for people who access health care.
Guest speakers: 
Dania Versailles, RN, BScN, MScN, CPMHN(C)
Co-Chair, Black Nurses Leading Change Interest Group 
Maxine Lesage, BScN, RN
RNAO Region 11 board representative and liaison to the Indigenous Nurses and Allies Interest Group
Dr. Shelley Evans, PhD, RN [she/her]
Provincial president, RNIG-RNAO (RN-2SLGBTQ+) - Rainbow Nursing Interest Group
 Moderator:   
 Dr. Claudette Holloway, RN, BScN, MSN, DHA, CHE
President, RNAO
We are pleased to have the Nursing Students of Ontario (NSO) as our AGM host this year! NSO, which currently has 8,000 members, represents and acts as a resource for Ontario nursing students, focusing on their needs and concerns.
Image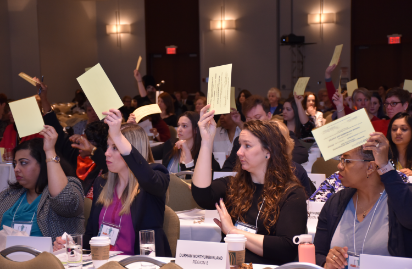 RNAO encourages members, chapters, regions without chapters, and interest groups to submit resolutions for review and discussion at RNAO's annual general meeting (AGM). Members who submit resolutions help raise the profile of important nursing and health issues and engage colleagues in discussions that matter to RNs, NPs and nursing students.
Image

RNAO members play an important role in deciding governance issues that affect the current and future direction of your professional association. Voting opens on Tuesday, June 6 at 12 p.m. ET and closes on Thursday, June 22 at 12 p.m. ET. Results will be announced during Friday's AGM.
Image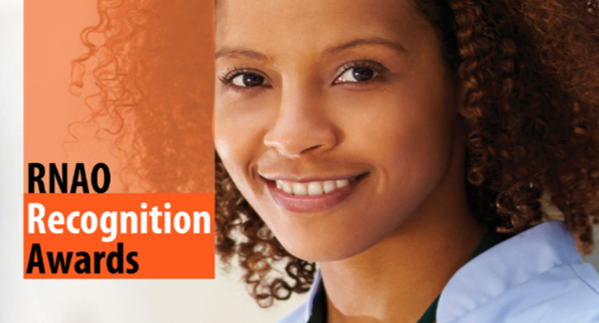 RNAO Recognition Awards
RNAO's Recognition Awards are presented annually to volunteers and long-time members that make significant contributions to the association's mandate of speaking out for nursing and speaking out for health. Awards are given out in five different categories – leadership, education/mentorship, group, student (undergraduate) and member of the public.
Image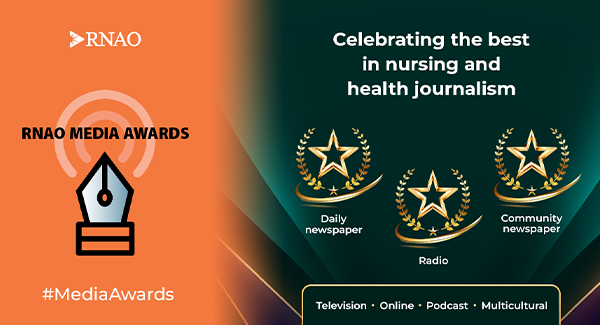 Media Awards
RNAO's annual Media Awards honour journalists for outstanding reporting that helps Ontarians better understand nursing and health care. Awards are presented each year in the following categories: daily newspaper, community newspaper, radio, television, online, podcast and multicultural. Entries are scored by an independent panel of judges consisting of nurses and journalists.