On this page:
Program  |  Watch it again | Awards 
 
We look forward to seeing you at our 97th Annual General Meeting (AGM) on June 9 – 11, 2022!
To explore nurses' experiences over the past year, the theme for our of AGM is "COVID-19 Pandemic: Nursing Through Crisis." This is a chance for RNs, NPs and nursing students to gather in a virtual space to reflect on learnings from the past year and look ahead at the opportunities to improve the nursing profession for the current workforce as well as the next generation of nurses.
Day 1 - June 9, 2022
---
Image

  12 - 2 p.m. ET
Resolution session for consultation representatives
During this session, consultation representatives will have the opportunity to meet with resolution submitters to discuss proposed resolutions. This session will also include the consultation representative orientation where the rules of order are provided and the verified list of consultation representatives is finalized. This is a closed session open only to resolution submitters, consultation representatives, assembly members and the board of directors.
Image

 6 - 8 p.m. ET
Opening ceremony
The opening ceremony is the official kickoff of our 97th AGM. You'll hear from Ontario's top political leaders, government officials and our international nursing colleagues. To top off the evening, we'll be celebrating our newly designated Best Practice Spotlight Organizations (BPSO). 
For more details, please see our program.
Day 2 - June 10, 2022
---
Image

9 a.m. - 2 p.m. ET
Image

6 - 7:30 p.m. ET
Nursing in the COVID era: the transition of a new generation of nurses
This session will focus on how nursing students/new graduates experienced the pandemic and how they plan to transition out of the pandemic through student leadership and resilience. Current nursing students/new graduates have unique experiences and learning needs, having been away from the class environment and in-person placements for a long time. 
Speakers for this session are Nursing Students of Ontario executives: Rebecca Titus, Erika Juhasz, Prashajini Sivasundarram and Lalezar Tuner. 
Day 3 - June 11, 2021
---
Image

8 - 11 a.m. ET
RNAO has more than 30 interest groups, each representing a unique specialty or population within nursing. Collectively, they represent the incredible diversity of the profession.
Details to come about which interest groups will be hosting meetings on Saturday, June 11, 2022. 
You do not have to be practising in an interest group's area of expertise to join a particular group.
Image

11:30 a.m. - 1 p.m. ET
Closing keynote panel: Protecting Ontarians and leading change: The COVID-19 pandemic through the eyes and experiences of nurses
Image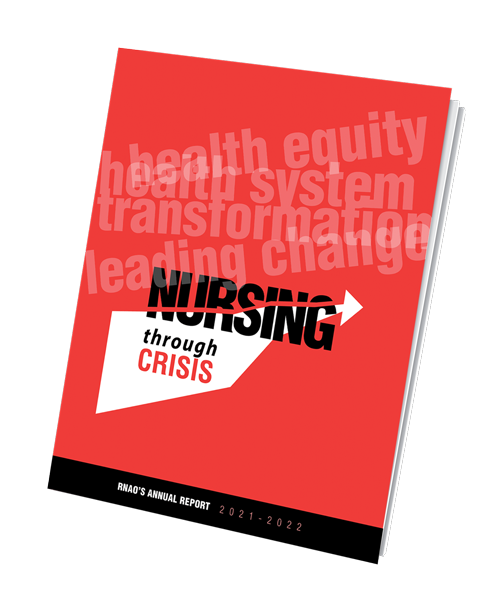 RNAO Annual Report
COVID-19 PANDEMIC: NURSING THROUGH CRISIS
RNAO's annual report is a comprehensive report on the organization's activities and performance throughout the preceding year (2021-2022). This year's annual report theme is COVID-19 Pandemic: Nursing Through Crisis.
Coming soon
Image

One member, one vote
RNAO members play an important role in deciding governance issues that affect the current and future direction of your professional association.
Image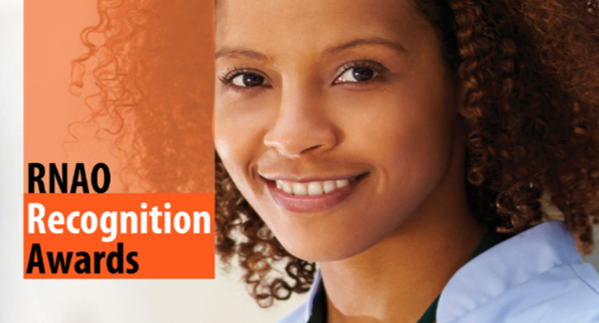 RNAO Recognition Awards
RNAO's Recognition Awards are presented annually to individuals and groups that make significant contributions to RNAO's mandate of speaking out for nursing and speaking out for health. Awards are given out in five different categories – leadership, education/mentorship, group, student (undergrad) and member of the public.
The awards acknowledge contributions made by volunteers and long-time members of the association.
Image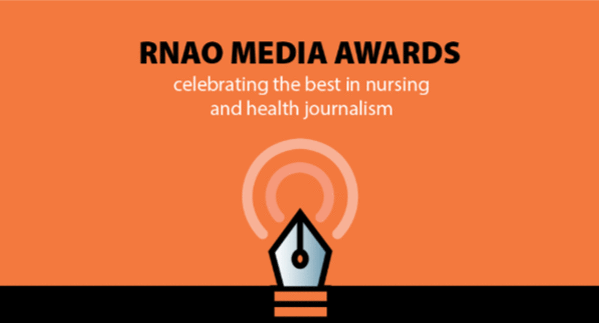 Media Awards
RNAO's annual Media Awards honours journalists for outstanding reporting that helps Ontarians better understand nursing and health care. Awards presented each year in the following categories: best news coverage (daily newspaper, community newspaper, radio and television), best in-depth feature/series (daily newspaper, community newspaper, radio and television) and best online story. Entries are scored by an independent panel of judges consisting of nurses and journalists.
Members' Voices
Hear from our assembly members on what's been happening in their local chapters, regions and interest groups.