On this page:
Host | Program | AGM 2022 recap | Resolutions | Voting | Awards 
We look forward to seeing you at our 98th Annual General Meeting (AGM) from June 22–24, 2023!
To explore nurses' experiences over the past year, the theme for our AGM is "Change through unity and action." This is a chance for RNs, NPs and nursing students to gather in-person to reflect on learnings from the past year and look ahead at the opportunities to improve the nursing profession for the current workforce as well as the next generation of nurses.
We are pleased to have the Nursing Students of Ontario (NSO) as our AGM host this year! NSO, which currently has 8,000 members, represents and acts as a resource for Ontario nursing students, focusing on their needs and concerns.
Day 1 - Thursday, June 22, 2023
---
Image

 6 - 7:30 p.m. ET
Image

 7:30 - 8:30 p.m. ET
Stakeholder Wine & Cheese Reception   (cash bar)
Image

 8:15 - 9 p.m. ET
Resolution Session for Consultation Representatives
Day 2 - Friday, June 23, 2023
---
Image

 8:30 a.m. - 4:30 p.m. ET
Image

 12:15 - 1:30 p.m. ET
Image

 6:30 - 9:30 p.m. ET
Day 3 - Saturday, June 24, 2023
---
Image

 11:30 a.m. - 4:30 p.m. ET
Closing Keynote Presentation
Image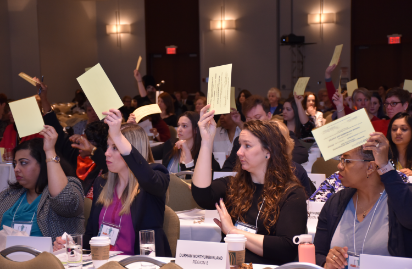 RNAO encourages members, chapters, regions without chapters, and interest groups to submit resolutions for review and discussion at RNAO's annual general meeting (AGM). Members who submit resolutions help raise the profile of important nursing and health issues and engage colleagues in discussions that matter to RNs, NPs and nursing students.
Image

RNAO members play an important role in deciding governance issues that affect the current and future direction of your professional association. Voting opens on Tuesday, June 6 at 12 p.m. ET and closes on Thursday, June 22 at 12 p.m. ET.
Image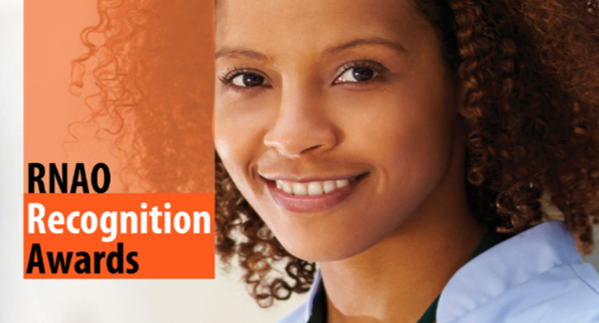 RNAO Recognition Awards
RNAO's Recognition Awards are presented annually to volunteers and long-time members that make significant contributions to the association's mandate of speaking out for nursing and speaking out for health. Awards are given out in five different categories – leadership, education/mentorship, group, student (undergraduate) and member of the public.
Image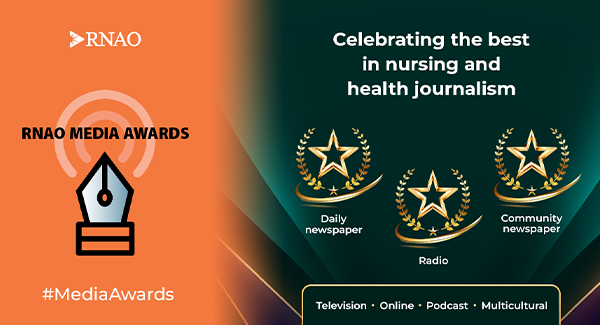 Media Awards
RNAO's annual Media Awards honour journalists for outstanding reporting that helps Ontarians better understand nursing and health care. Awards are presented each year in the following categories: daily newspaper, community newspaper, radio, television, online, podcast and multicultural. Entries are scored by an independent panel of judges consisting of nurses and journalists.
 We were thrilled to have both members and non-members join us virtually at our 97th AGM. Our theme "COVID-19 pandemic: Nursing through crisis" highlighted both the incredible leadership by RNs, NPs, nursing students and Ontarians, as well as RNAO's role in speaking out on key issues throughout the pandemic.
Closing keynote panel: How will nursing recover post pandemic and what will our profession look like?