Accountability and transparency are essential components of RNAO's commitment to its members. Our annual reports provide an overview of the association's financial information, its management and highlights from each fiscal year. If you have any questions about the content in these documents, please contact us.
Annual reports
Image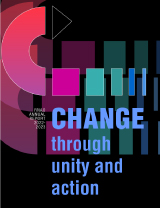 2022 - 2023
This year's annual report highlights our work in two key areas: unity and action. Each area explores how our members contribute to our healthy public policy work and help inform our evidenced-based best practice guidelines program, including our network of Best Practice Spotlight Organizations. 
Image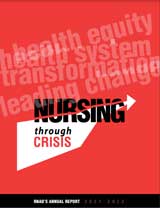 2021 - 2022
This year's annual report highlights our work in three pillars: health equity, health system transformation and leading change. Each area explores the history or impetus for the work in the area, the role of members leading this work, partnerships, policy and capacity building. 
Image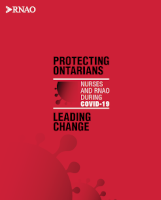 2020 - 2021
This past year has tested the resilience of nurses, our profession, the health system. It has also affected all Ontarians individually and collectively. Throughout this annual report, we highlight positive outcomes and we reveal where more work needs to be done.
Image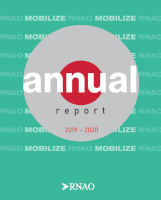 2019 - 2020
Our main focus this year is mobilization. As you make your way through these pages, you will see how members have engaged to mobilize change. This report is built around five pillars: voice, powering, practice excellence, partnerships and collective identity. 
Image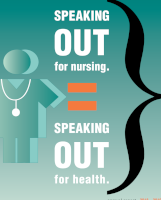 2018 - 2019
Our mandate - Speaking out for nursing and speaking out for health - symbolizes who we are and how we approach our responsibilities as health professionals and as members of our communities. It's also the theme for this year's annual report.
Image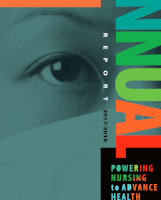 2017 - 2018
The pages of this annual report tell the story of our accomplishments together, and the contributions we have made over the past year to our profession, the health of Ontarians and the health system.