RNAO is committed to providing members and non-members with credible COVID-19 vaccine information and resources. RNAO is participating in a collective effort to develop a comprehensive information resource on COVID-19 vaccines.
VISIT THE CENTRE FOR EFFECTIVE PRACTICE
Letter to Ontario government 
On Feb. 10, 2021, RNAO sent a letter to Ontario's premier and minister of health regarding nurses' thoughts and priorities on the COVID-19 vaccine rollout. 
The key points conveyed are as follows:
prepare for large‐scale immunization starting in March; 
engage public health and community providers;
prioritize right: focus on the elderly and target vulnerable populations; and
do not allow vaccines to distract us from a potentially devastating third wave.
Action Alert
Image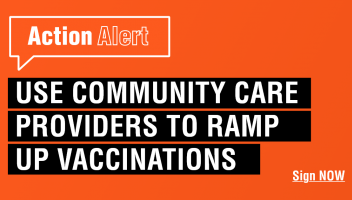 Ontario's vaccination roll-out has stumbled out of the gate. Please take a moment to set things right. Join us in urging Premier Doug Ford to start Phase 2 of the roll-out by putting vaccinations into the hands of the thousands of nurses, physicians and pharmacists working in community care across this province.
Webinars 
COVID-19 Vaccine: A game changer (Feb. 8, 2021)
Speakers:
Doris Grinspun, RNAO CEO
Dr. Cora Constantinescu, pediatric infectious disease specialist
Webinar: COVID-19 vaccine distribution: progress to date (Jan. 11, 2021)
Speakers:
Doris Grinspun, RNAO CEO
Dr. Dirk Huyer, Chief Coroner, member, Lead Clinical Guidance and Surveillance Work-Stream, COVID-19 Vaccine Distribution Task Force
For more information on our COVID-19 Webinar Series, visit our event page.
---
For more information, please visit RNAO CEO Doris Grinspun's blog for weekly updates on the COVID-19 vaccine and more: Doris-Blog.RNAO.ca