On this page:
This amazing spirit of human solidarity must become even more infectious than the virus itself.

World Health Organization 
Beginning Thursday, March 19, 2020 at 7:30 p.m. local time and every evening going forward, RNAO asked everyone – from the doorsteps of their homes or keeping a safe distance – to cheer on the millions of health providers, social service and other essential front-line workers in Ontario, Canada and around the world who are tackling COVID-19. 
RNAO has encouraged the public to post their cheering-up activity on social media with the tag @RNAO and hashtags #TogetherWeCanDoIt and #Cheer4HealthWorkers. The response has been incredible.
Update (Nov. 20, 2020): 
Thank you to everyone who participated nightly in our #Cheer4HealthWorkers campaign for the past 246 days. 
You've show health-care workers incredible amounts of support, & now, the time for applause is over. It's time to show your support by staying home to help stop #COVID19. #TogetherWeCanDoIt
Retweet our post here. 
Image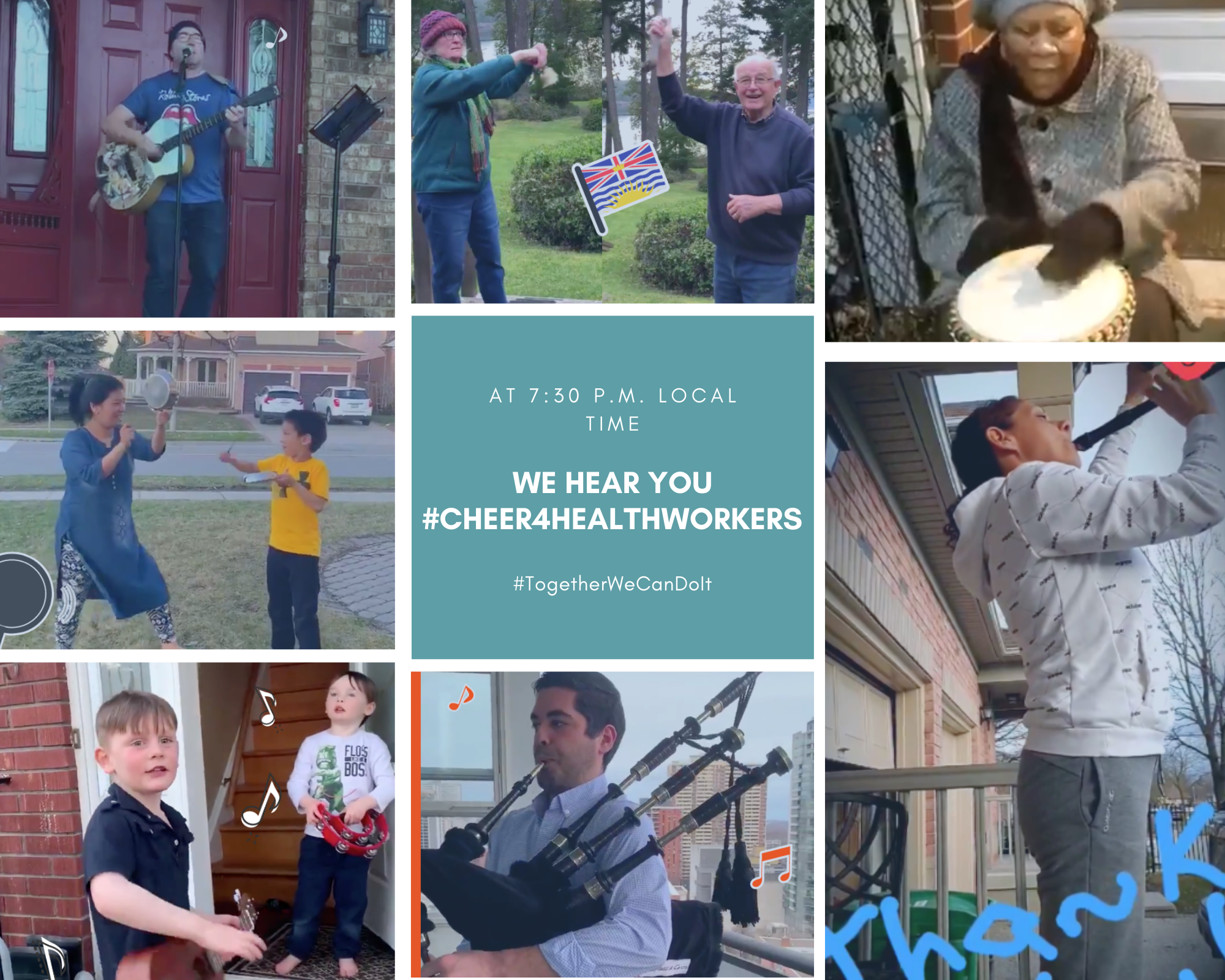 ---
For more information, please read our media release on the #TogetherWeCanDoIt campaign that was published on March 19. 
---
 #Maskathon urges you and your loved ones – especially children and youth  – to wear a non-medical mask or face covering in indoor public spaces (shops, mall, other businesses), busy areas and transit and send us photos via social media (Twitter, Facebook, Instagram).
For more details on how to get involved, please visit our official webpage. 
---
To spread the word about the #Cheer4HealthWorkers initiative, we encourage you to include the following image in your email signature:
Image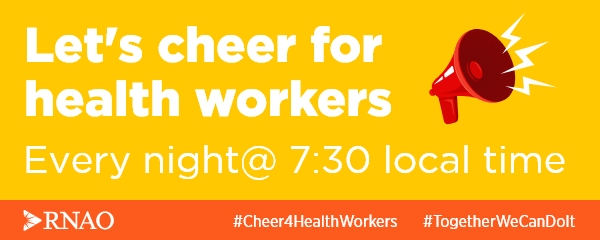 ---
Letters to Nurses
Letters to RNAO
---
Our #TogetherWeCanDoIt campaign has garnered 54 media hits and counting, including the following stories:
Dec. 28:
Dec. 8:
Dec. 4:
Dec. 3:
Sept. 23:
July 21:
July 12:
July 8:
June 14:
June 4:
June 3:
May 28:
May 13:
April 16:
April 14:
April 8:
April 1:
March 31:
March 30:
March 28:
March 23:
March 22: 
March 21:
March 20:
March 19: