On this page:
As we continue to battle COVID-19 in our communities and around the world, we must all play a part in staying safe and healthy.
That's why RNAO has launched #Maskathon.
#Maskathon urges you and your loved ones – especially children and youth  – to wear a non-medical mask or face covering at all times, unless you are at home with housemates or outdoors at a guaranteed two metres' distance from others, and send us photos via social media (Twitter, Facebook, Instagram).
How to participate: Participants can send us their photos by tagging us @RNAO on Twitter, @registerednurses on Instagram, @RNAOHomeOffice on Facebook and one or both of the official hashtags: #Maskathon #TogetherWeCanDoIt. For those who are not active on social media, but would still like to participate, please send us your photo at maskathon@RNAO.ca and we will share it on our social media channels. Please be sure to also include a caption with your photo (e.g. this is my daughter wearing her mask while grocery shopping with me).
How to wear a mask properly:
Image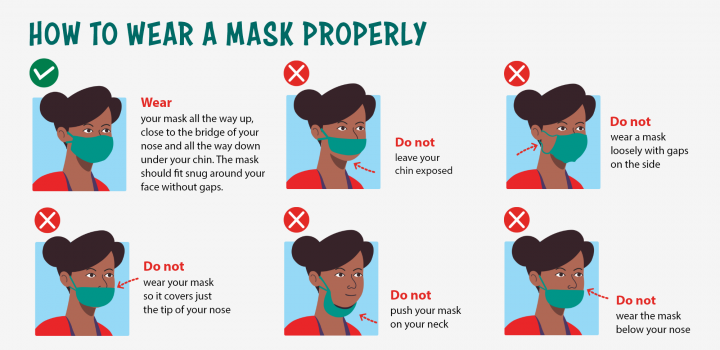 Download English Download French  Download Spanish
Benefits of wearing a mask:
According to the Pan-Canadian Public Health Network, COVID-19 is spread through the contact of respiratory droplets produced by infected individuals when they cough, sneeze or even when they laugh or speak, including by individuals who have not yet or who may never develop symptoms. The wearing of non-medical masks or face coverings is an additional personal practice that can help prevent the infectious respiratory droplets of an unknowingly infected person from coming into contact with other people outside the home
For more information, please watch our COVID-19: #TogetherWeCanDoIt! webinar.
#Maskathon is the latest initiative of RNAO's #TogetherWeCanDoIt campaign, which launched on March 19, 2020. The campaign is designed to show support for health workers who are doing all they can during the pandemic on behalf of Ontarians and others around the world.
To read our official media release on #Maskathon, please click here. 
RNAO encourages individuals to download  and share the images below on your social media channels to spread the word about #Maskathon.
Facebook and Twitter images:
Image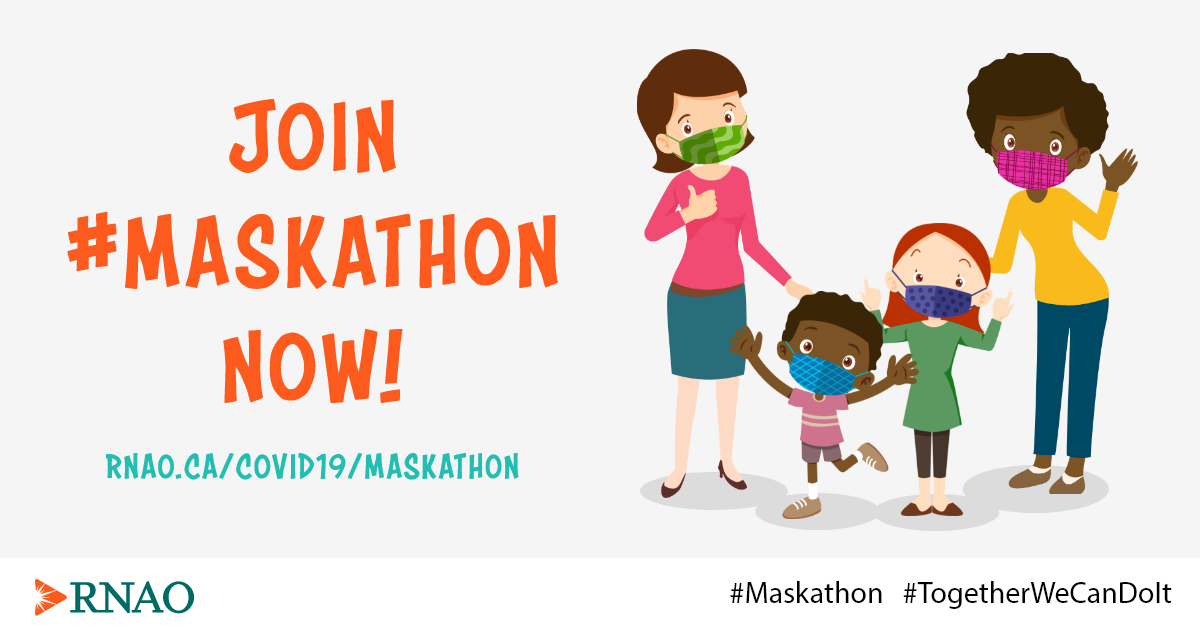 Download English  Download French  Download Spanish
Image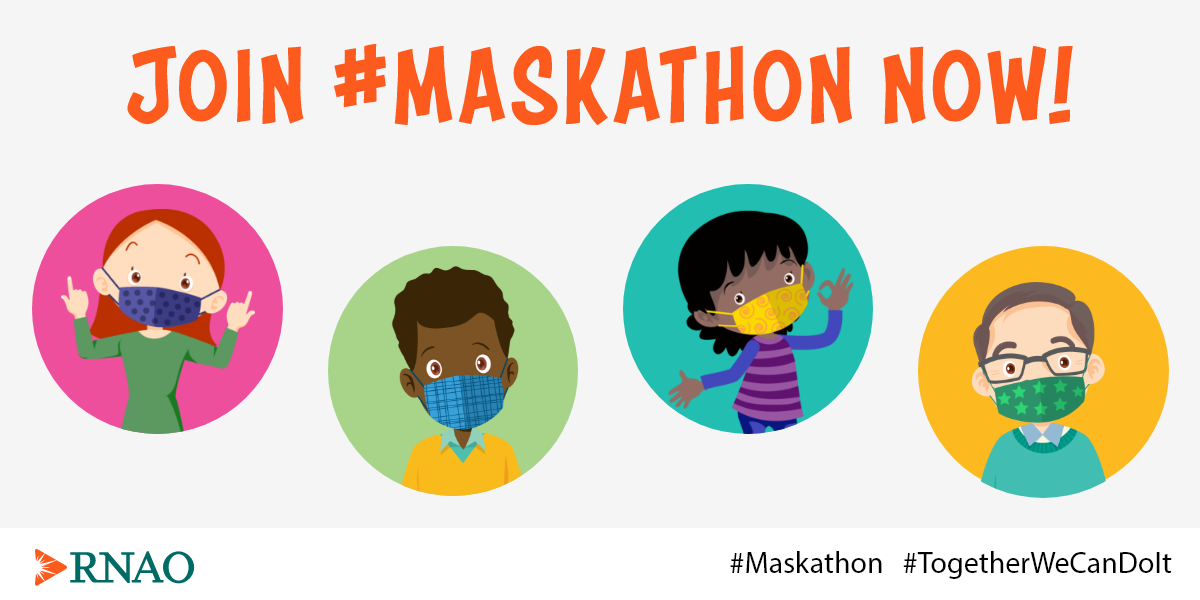 Download English Download French Download Spanish
Image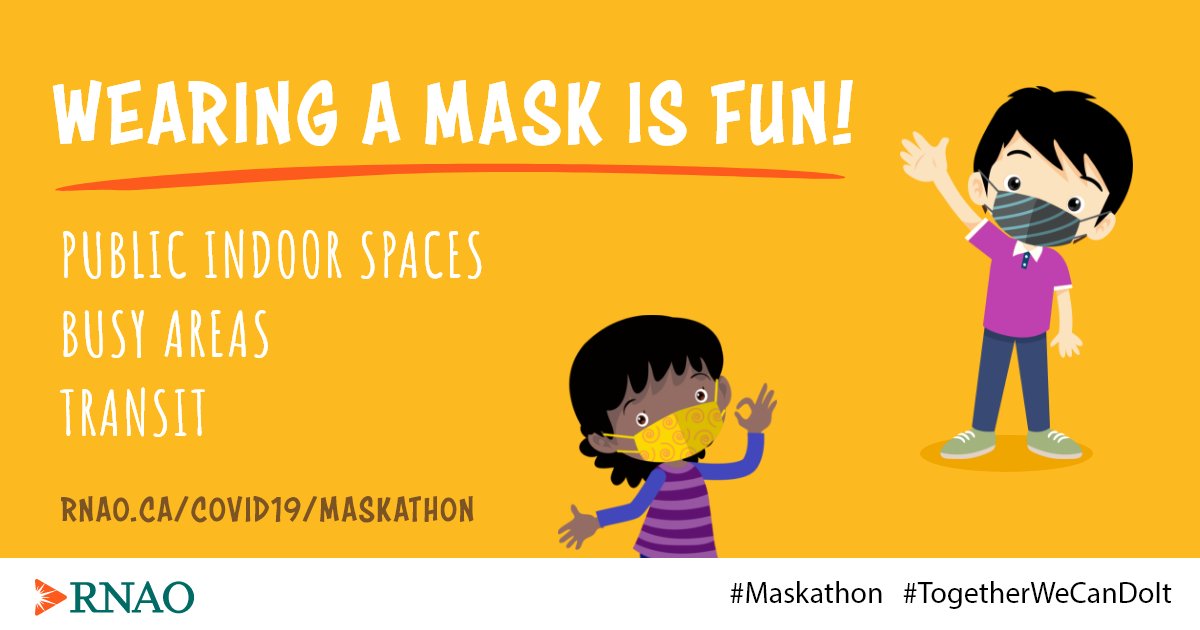 Download English Download French Download Spanish
Image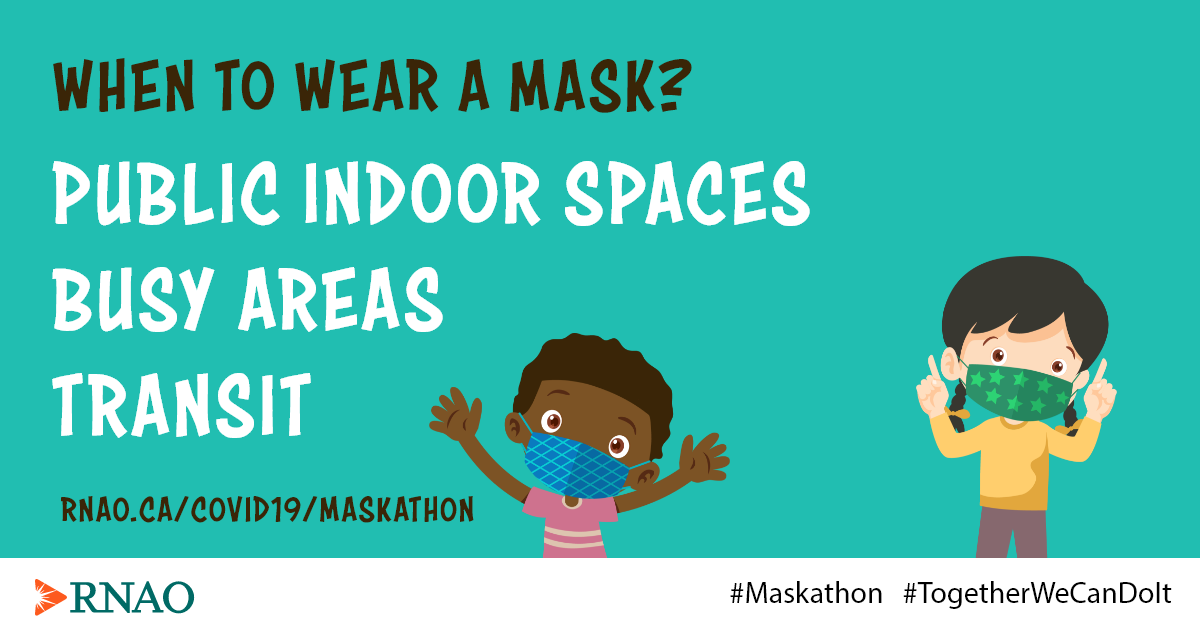 Download English Download French Download Spanish
Image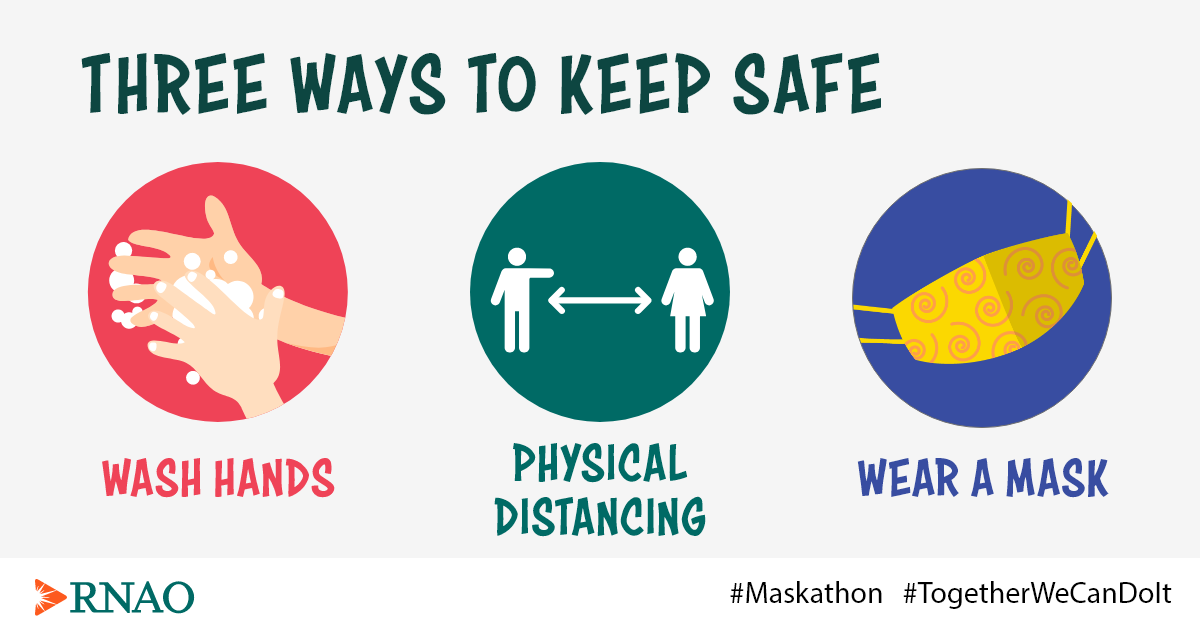 Download English Download French Download Spanish
Instagram images:
Image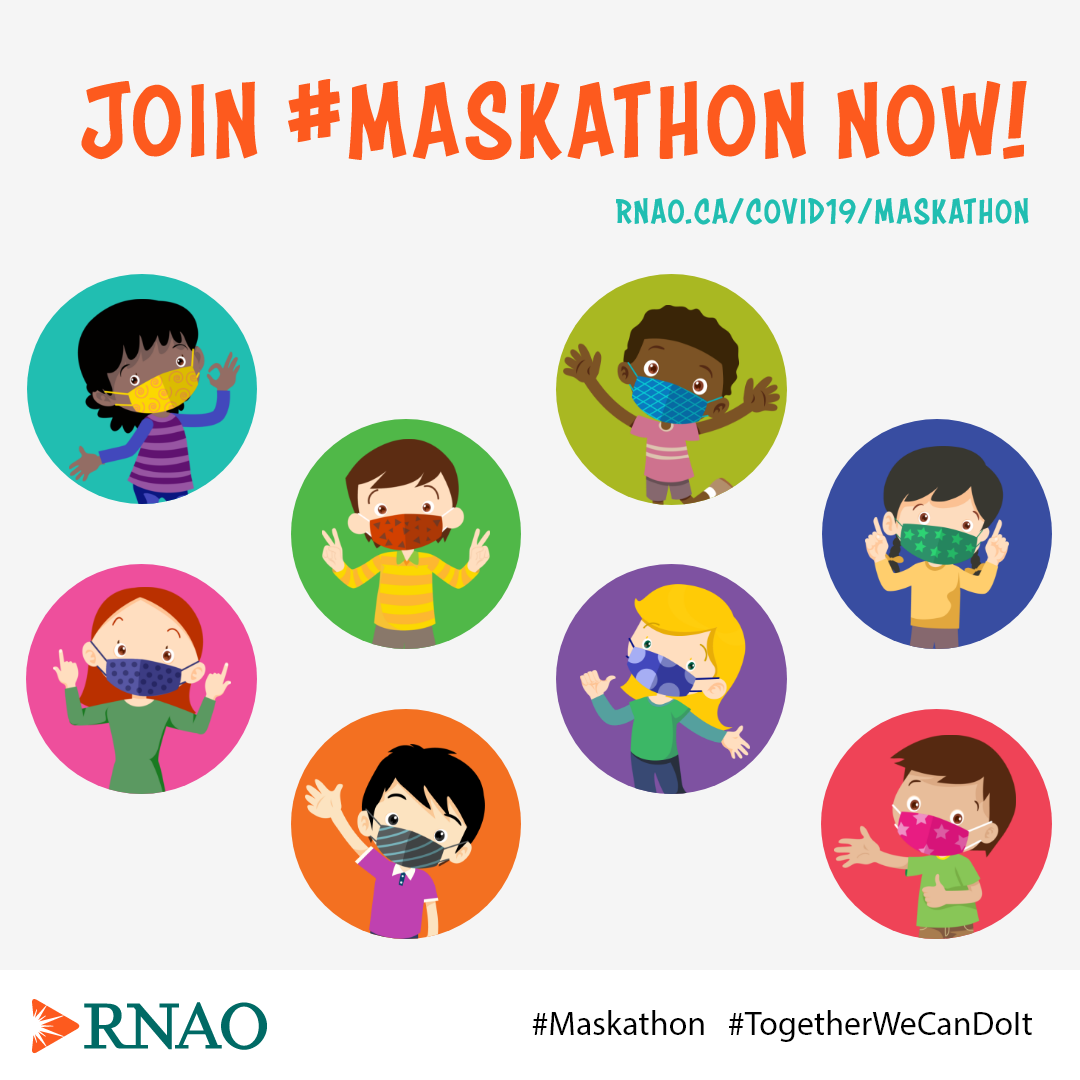 Download English Download French Download Spanish
Image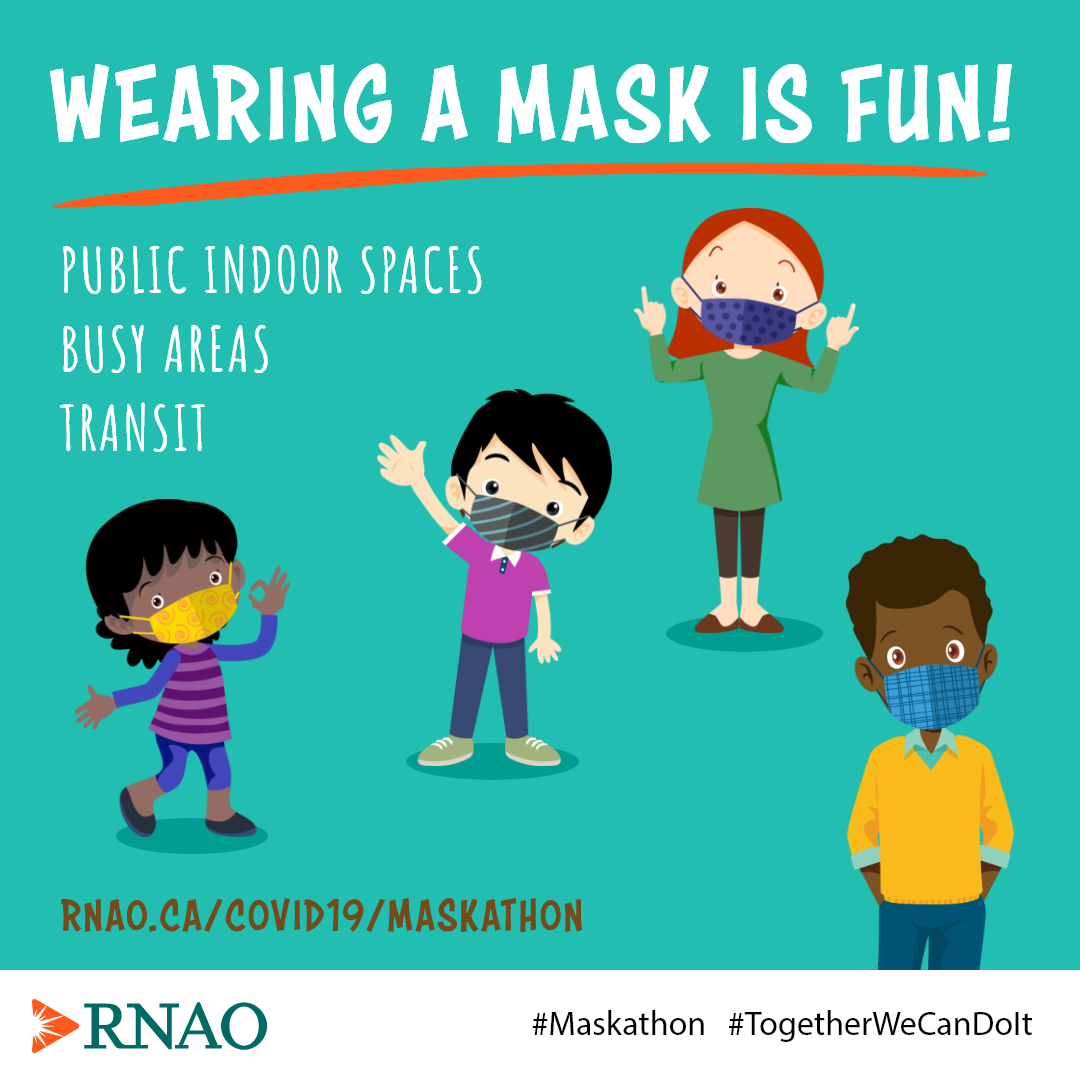 July 21, 2020: 
July 20, 2020:
July 17, 2020:
July 14, 2020: