RNAO is aware nurses and health-care providers across Ontario are experiencing tremendous levels of physical and emotional stress due to COVID-19, and are committed to supporting you during this time.
On this page:
Mental health and well being is essential. To maintain the safety of health-care workers and their families during this crisis, a list of recommended resources has been compiled to support you.
If you are in crisis, please call your local distress line. If you are facing a mental health emergency, please call 911.
Description
Resource(s)
Clinical services to support health-care providers experiencing distress

Support and help lines:

Ontario COVID-19 Mental Health Network
ConnexOntario: Fully operational and available via telephone, chat and email 24/7 to provide accurate and up-to-date addiction, mental health and problem gambling information to Ontarians
Canadian Mental Health Association: Mental Health Helpline at 1-866-531-2600 
If you are working and have an Employee Assistance Program (EAP), you can access it. 

These sites provide information and suggestions about how best to cope with stress and anxiety

The Centre for Addiction and Mental Health (CAMH)

Online resources for Ontario long-term care (LTC) home leaders and team members during the COVID-19 pandemic

Homewood resources posted in CLRI: Mental Health Supports for LTC

Includes a self-directed cognitive behavioural therapy program for anxiety and depression
Health and wellness library
Helpful articles
20+ e-courses for stress and anxiety
Other resources to support the health and well-being of those who work in LTC

For nurses registered with the CNO who have substance use and/or mental health disorders

A voluntary, bilingual and confidential program
Includes specialized programs for health-care professionals
Includes customized treatment plans that support you to practice or return to practice nursing safely

For medical students, residents, physicians in Ontario who are experiencing distress, mental health or substance use issues

Ontario Medical Association, Physician Health Program (PHP):

PHP Confidential toll free line: 1-800-851-6606 or email php@oma.org

Support for mental health and well being:

Links to resources to manage anxiety and stress

Canadian Mental Health Association (CMHA)

Bounce Back Ontario

Free skill-building program managed by the CMHA
Designed to help adults and youth 15+ manage low mood, mild to moderate depression and anxiety, stress or worry
Delivered over the phone with a coach and through online videos
Access to tools that will support you on your path to mental wellness

Support for mental health and well being:

Mental Health Commission of Canada

World Health Organization (WHO)

Counseling and support groups for individuals who use substances
Resources to support children and families

Centre for Addiction and Mental Health

World Health Organization (WHO)

Ontario's Ministry of Health: Ontario.ca

Mental Health Commission of Canada
Continuing the conversation – an open forum for nurses to share how they're feeling during COVID-19
Image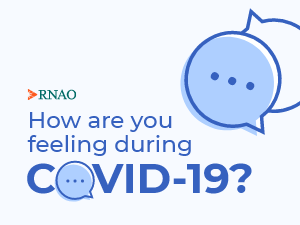 RNAO is aware nurses across Ontario – especially those working on the frontlines of COVID-19 – are experiencing tremendous levels of physical and emotional stress and burnout. We know this can affect your mental health and well-being at this challenging time and that you may have less time to devote to your own self care.
RNAO hosts a biweekly virtual open forum series for nurses to share how they're feeling during COVID-19. During these forums, RNAO holds breakout sessions for participants to discuss themes identified in the previous forums, such as dealing with multiple losses, taking care of yourself and more.
All Ontario RNs, NPs, RPNs and nursing students – in all roles and sectors – are invited to take part and share or simply join in to listen to your nursing colleagues.
The next session is on March 3, 2021. Stay tuned for registration details. 
Past sessions:
In an effort to understand the impact of COVID-19 on your work and well-being, and to determine the best ways we can continue to support you and Ontario's nursing community, RNAO has created a short survey. If you are an RN, NP or nursing student in Ontario, please complete this short survey. Your participation will allow RNAO to better understand how this pandemic has changed your work, your attitude to work and your future in nursing, and inform our policy and advocacy efforts now and into the future. It will also allow us to capture trends and themes across health-care sectors and settings that may inform our open forum series for nurses. 
All responses will remain anonymous and your privacy protected.
The deadline to complete the survey is 4 p.m. ET on Feb. 22.
Title
Downloadable Files: