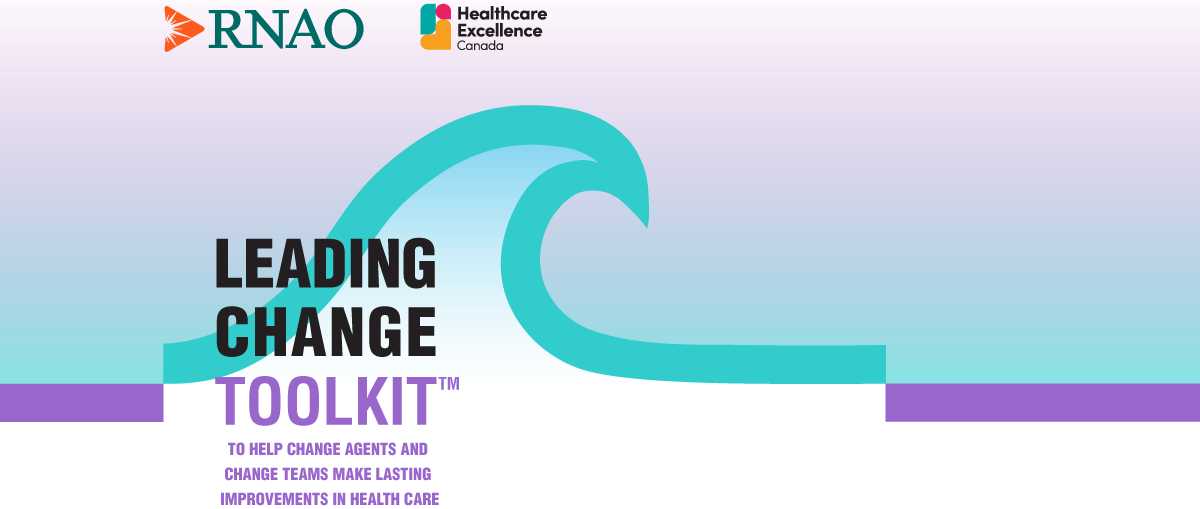 A practical, evidence-based toolkit for change agents and change teams
RNAO and Healthcare Excellence Canada (the new organization that brings together the Canadian Patient Safety Institute (CPSI) and the Canadian Foundation for Healthcare Improvement) are partnering to develop a toolkit that will replace the 2012 RNAO Toolkit: Implementation of Best Practice Guidelines (2nd edition) with a dynamic and modern online resource.
Purpose
The goals of the Leading Change Toolkit™ are to promote health care excellence at the point-of-care, and to create sustainable evidence-informed cultures. Structured processes guided by the Knowledge-to-Action (KTA) Framework will help organizations understand their context and embrace dynamic change. Social movement approaches will promote engagement of point-of-care practitioners seeking to deliver safe and excellent care.
Target audience
The Leading Change Toolkit™ is for champions and change teams who work across health sectors and settings in Canada and around the world. Change teams can use the toolkit to implement best practices, and improve quality and safety. Teams may include interprofessional practitioners, persons/patients and families, administrators, students, educators, and other staff or volunteers in the organization. The Leading Change Toolkit™ will be a comprehensive resource for RNAO Best Practice Spotlight Organizations® (BPSO®) and RNAO Best Practice Champions. Other Leading Change Toolkit™ users may include researchers, policy makers and administrators.
New Features
The Leading Change Toolkit™ will include two complementary frameworks to accelerate success in the uptake and sustainability of knowledge: the KTA Framework (Graham et al., 2006), which is found in the 2nd edition of the toolkit, and a new Social Movement Action (SMA) Framework (RNAO, in partnership with Healthcare Excellence Canada, 2021). The SMA framework includes strategies and approaches used to mobilize change. Find more details on the SMA framework here.
The Leading Change Toolkit™ will be freely accessible and available in English, French and Spanish.
Expert Panel
The expert panel is made up of national and international experts, including interprofessional health-care providers from numerous sectors, patients and families with lived-experience, and those with expertise in knowledge translation, implementation science, social movement thinking, quality improvement and best practice guideline implementation.

Jesús Bujalance, RN

Nataly Farshait, RN, MN, CPNC, CHE
John Gabbay

Ian Graham, PhD, FCAHS, FNYAM, FRSC

Alison Hutchinson, RN, Cert of Midwifery, BAppSci (Adv Nsg), MBioeth, PhD

John Lavis, MD, PhD

Celia Laur, MSc, PhD

Tina Mah, PhD

Julia E. Moore, PHD

Jignesh Padia, Patient Advocate

Jennifer Plant, MSc

Jodi Ploquin, M.Sc

P. Jim A. Ruiter, MD, MCFP

Margie Sills-Maerov, BScOT, MBA, CHE

Dr. Daphney St-Germain, RN, PhD

May Tao, RN, BScN, MSN, CCHN(C)

Marita Titler PhD, RN, FAAN
Bernie Weinstein, Patient Advocate
Junqiang (John) Zhao , RN, MScN, PhD Student

Dr. Doris Grinspun,
RN, MSN, PhD, LLD(hon), Dr(hc), FAAN, FCAN, O.ONT.
Co-Chair

Dr. Janet Squires, RN, BN, MN, PhD
Co-Chair
Expected date of completion: October 2021
For any inquires regarding the Leading Change Toolkit™, email leadingchangetoolkit@RNAO.ca
References
Graham, I. D., Logan, J., Harrison, M. B., Straus, S. E., Tetroe, J., Caswell, W., & Robinson, N. (2006). Lost in knowledge translation: Time for a map? Journal of continuing education in the health professions, 26(1), 13-24.
RNAO, in partnership with Healthcare Excellence Canada. (2021). Leading Change Toolkit™ (3rd ed.). www.RNAO.ca/leading-change-toolkit