Image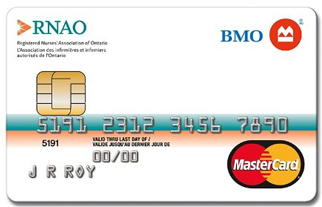 Every time you use your BMO RNAO MasterCard, you identify yourself as a member of your professional association, and show your pride as a registered nurse. RNAO's name and logo are prominently displayed on the card, so you will enjoy the instant recognition of your profession.
When you use your BMO RNAO MasterCard to make a purchase, you support your association as a contribution is made to RNAO by Bank of Montreal - at no cost to you.
Reward yourself.
Get the BMO RNAO MasterCard. Reward yourself with 1 AIR MILES®† reward mile for every $20 spent or 1 per cent CashBack® and pay no annual fee.
For more details about the BMO RNAO MasterCard, call BMO at 1-800-263-2263.
Award of AIR MILES reward miles or CashBack is made for purchases charged to your account (less refunds) and is subject to the terms and conditions of your BMO MasterCard Cardholder Agreement.
® Registered trademark of Bank of Montreal.
®* MasterCard is a registered trademark of MasterCard International Incorporated.
®† Trademarks of AIR MILES International Trading B.V. Used under license by LoyaltyOne, Inc. and Bank of Montreal.
---
Image

As a member of RNAO, you are entitled to receive exclusive rates and discounts through Mortgages For Healthcare Workers. This can add up to thousands of dollars in savings for you.
With the new mortgage rules implemented by our government as of Jan. 1, 2018, it has never been more vital to have a mortgage professional help you navigate through the stress of planning your mortgage.
Mortgages For Healthcare Workers is here to help you relieve that stress.
---
Benefits and features
Reduced interest costs

Exclusive rates

Free professional advice

Improved credit score

Eligibility for family members

No broker fees

Credit counselling
---
Types of mortgages
Buying your first property

Renewing your mortgage

Refinancing/debt consolidation

Buying your next property

Pre-approvals
---
Mortgages For Healthcare Workers is committed to supporting nurses in Ontario. You are the ones always helping others, give us the opportunity to help you this time. 
If you are interested, have a specialist contact you at www.mortgagesforhealthcareworkers.ca.
You can also call us at 416-402-9939 or apply online: www.mortgagecentre.com/saliozzo
Don't forget to also download the MCCC Home Centre App and access all the premium tools: www.mccapp.ca/app/rosario-iozzo
App features:
•    calculate your total cost of owning a home
•    estimate the minimum down payment you need
•    calculate land transfer taxes and the available rebates
•    calculate the maximum loan you can borrow
•    stress test your mortgage
•    estimate your closing costs
•    compare your options side by side
•    search for the best mortgage rates
•    email summary reports (PDF)
•    available in English, French, Spanish, Hindi and Chinese
Follow us on:
Instagram: @mortgagesforhealthcareworkers
Facebook:  Mortgages For Healthcare Workers