The issue
Registered nurses (RN) and nurse practitioners (NP) are an essential part of Ontario's health-care system. One that should be: accessible, equitable, person-centred and integrated. And yet, the province has the worst RN-to-population ratio in Canada. Chronic underfunding and understaffing across all health sectors and the relentless replacement of RNs and NPs with less qualified health-care workers is challenging the effectiveness of RNs and NPs and the system as a whole. RNAO regularly monitors and responds to issues relating to the nursing workforce, scope of practice, nursing culture and safety, education and regulation with evidence-based recommendations.
Take action
Action Alert
Call on the premier to stop for-profit surgeries in Ontario!
Action Alert
Please join us in calling on Premier Ford to accept the court's decision on Bill 124.
Action Alert
Join our call for more nurse practitioner (NP)-led clinics and attending NPs in long-term care.
Nursing policy documents
Image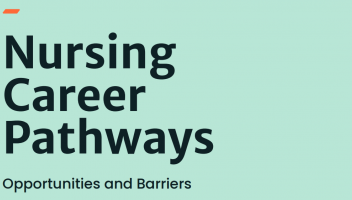 RNAO's Nursing Career Pathways Report - 2023
A strong and vibrant nursing workforce is the key to a well-functioning health system and a healthy population. To ensure the health and wellbeing of Ontarians, government must dedicate full attention to nursing and provide adequate and sustained funding and supports, argues a new report by the Registered Nurses' Association of Ontario (RNAO).
Image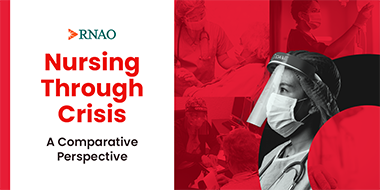 Nursing Through Crisis: A Comparative Perspective
RNAO carried out a detailed survey from May to July 2021, during the height of Ontario's third wave. Responses from 5,200 Canadian nurses, most of them from Ontario, were analyzed and compared with the association's earlier Work and Wellbeing Survey Results report, as well as with similarly focused national and international surveys that examined the struggles of nurses working throughout the pandemic.
Image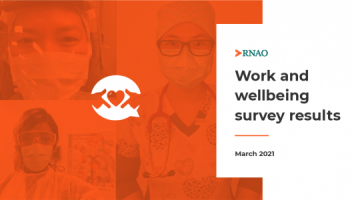 Work and wellbeing survey
This report summarizes the response to  RNAO's Work and Wellbeing Survey. It tells the story of nurses and a nursing workforce under considerable stress and strain as a result of the COVID-19 pandemic. The survey reveals that the effective functioning of Ontario's health system is at risk post-pandemic. The magnitude of potential departures by retirement or by changes in career paths calls for an immediate response from health system employers and government
RNAO's Nursing Career Pathways Report

Image

RNAO's Nursing Career Pathways Report - 2023

A strong and vibrant nursing workforce is the key to a well-functioning health system and a healthy population. To ensure the health and wellbeing of Ontarians, government must dedicate full attention to nursing and provide adequate and sustained funding and supports, argues a new report by the Registered Nurses' Association of Ontario (RNAO).

Nursing Through Crisis: A Comparative Perspective

Image

Nursing Through Crisis: A Comparative Perspective

RNAO carried out a detailed survey from May to July 2021, during the height of Ontario's third wave. Responses from 5,200 Canadian nurses, most of them from Ontario, were analyzed and compared with the association's earlier Work and Wellbeing Survey Results report, as well as with similarly focused national and international surveys that examined the struggles of nurses working throughout the pandemic.

Work and wellbeing survey

Image

Work and wellbeing survey

This report summarizes the response to  RNAO's Work and Wellbeing Survey. It tells the story of nurses and a nursing workforce under considerable stress and strain as a result of the COVID-19 pandemic. The survey reveals that the effective functioning of Ontario's health system is at risk post-pandemic. The magnitude of potential departures by retirement or by changes in career paths calls for an immediate response from health system employers and government
Other documents related to nursing policy: