Expanded scope of practice for RNs, NPs and RPNs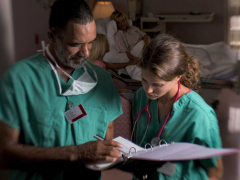 RNAO is gravely concerned about a letter Health Minister Christine Elliott sent to the College of Nurses of Ontario (CNO) on June 13. It contains directives on massive scope of practice expansion for RPNs, limited expansion for NPs, and nothing substantive for RNs
RNAO has long advocated for independent RN prescribing and RN initiation and delivery of psychotherapy. However, in Elliott's letter, there is no indication of what the next steps are to introduce independent RN prescribing despite calling it "another important step in meeting our vision of the health care system."
RNAO has also called for an expansion of scope for NPs to be authorized to perform all point-of-care testing; to order, and/or remove barriers, to ordering additional forms of energy such as CT, MRI, non-invasive EEG and ECG in all situations; to apply specified forms of energy such as defibrillation; to order nuclear medicine testing/procedures; expansion of authority to certify death and to complete Mental Health Forms including Form 1, 2, 3, 4, 5, 14 and 28. While the Minister moved ahead with point-of-care testing, MRIs and CT scans; she is not moving forward with the other authorities that are urgently needed to benefit the public.
RNAO also does not support expanding the scope of practice of RPNs to become virtually identical to RNs. The province has been down this road before and retreated, recognizing the risks posed by such an expansion of scope to the safety of Ontarians. Patient safety needs to be our first responsibility and foremost concern.
To learn more, please read our letter of response to Health Minister Christine Elliott.