Avis Favaro
Avis Favaro is Canada's longest serving television medical correspondent. She began covering health stories for Global Television followed by a move to CTV News in 1992. Her goal is to find stories that help viewers and inform Canadians about problems, potential solutions and the latest science in how they help themselves live longer healthier lives. Along with medical producer Elizabeth St. Philip, Favaro has been recognized with multiple awards by the Canadian Medical Association, the Canadian Nurses Association, and the Radio Television Digital News Association. She and Elizabeth are also previous winners of RNAO's Media Awards, a recognition they both deeply appreciate. This year more than ever, the award is really a reflection of the hard work of nurses and doctors on the front lines of this pandemic.
Image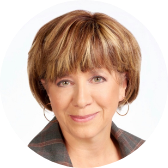 Elizabeth St. Philip
Elizabeth St. Philip is a senior producer at CTV National News where she covers medical stories for the national newscast and the investigative show CTV W5. She feels privileged to tell stories that help Canadians stay informed about their health and also highlights the extraordinary work of women and men in health care. Elizabeth's stories have won or been nominated for 20 awards, including the Canadian Association of Journalists, the Radio Television Digital News Association and the Canadian Screen Awards. In 2016, she was inducted as a Role Model at the Black Canadian Women Awards.
Image