Take Your MPP To Work LIVE - #TogetherWeCanDoIt
Submitted by mscaini on May 6, 2020, 10:42am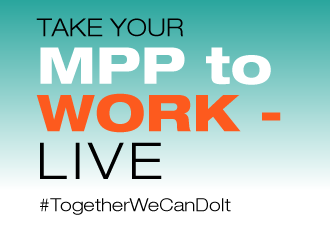 Each year during and after Nursing Week, we encourage RNs, NPs and nursing students to take part in our annual Take Your MPP To Work™ political action event.
This year is unlike any other, as the number of COVID-19 cases continues to grow in Canadian cities and communities from coast-to-coast-to-coast. Health-care organizations and workers are among those feeling the most substantial effects of the virus.
Together with our health-care system partners, we have been addressing the concerns expressed by our front-line heroes, and there is more work to be done. To help our elected federal and provincial MPs, MPPs and Ministers better understand and make informed, timely decisions, we plan to engage them in witnessing, first-hand, the significant challenges organizations and facilities are currently facing.
This year, to remain consistent with COVID-19 and physical distancing, we are inviting our partner organizations to participate in Take Your MPP To Work LIVE - #TogetherWeCanDoIt, a virtual experience, beginning during Nursing Week (May 11 - 17) and continuing until July 2020.
This event is an innovative approach to RNAO's Take Your MPP to Work™ (TYMTW) event, which was established in 2000. Since that time, TYMTW has grown to become an important annual political engagement event for RNAO members and MPPs alike. Premiers, Cabinet Ministers, Opposition Leaders and numerous MPPs have gone to work with RNs and NPs in all care settings. We hope this virtual on-the-job experience in 2020, the Year of the Nurse and Midwife, will give politicians a unique opportunity to better understand the breadth, depth and challenges of providing nursing care across diverse practice settings, particularly in times of a health care crisis.
On this page:
| Date | Organization | Politician |
| --- | --- | --- |
| May 11, 2020 | Michael Garron Hospital | Christine Elliott, Deputy Premier and Minister of Health |
| May 11, 2020 | KFLA Public Health | Ian Arthur, MPP Kingston and the Islands |
| May 13, 2020 | West Park Health Care Centre | Premier Doug Ford, Merrilee Fullerton, Minister of Long-Term Care & Christine Elliott, Deputy Premier and Minister of Health |
| May 13, 2020 | Guelph Community Health Centre | MPP Mike Schreiner, Ontario Green Party Leader |
| May 13, 2020 | Trillium Health Partners | Natalia Kusendova, MPP Mississauga Centre |
| May 14, 2020 | Ottawa Public Health | Prime Minister Justin Trudeau |
| May 14, 2020 | St. Joseph's Health Care London | Terence Kernaghan, MPP London North Centre |
| May 14, 2020 | Sandy Lake Nursing Station and Health Centre | Sol Mamakwa, MPP Kiiwetinoong |
| May 15, 2020 | Hôpital Montfort | Hon. Caroline Mulroney, Minister of Transportation and Minister of Francophone Affairs |
| May 15, 2020 | Saint Elizabeth Health Care | Mitzie Hunter, MPP Scarborough - Guildwood |
| May 15, 2020 | Inner City Health Associates | Andrea Horwath, Leader, Official Opposition, MPP Hamilton Centre |
Please note events will continue to be added.
MPP Terence Kernaghan at Parkwood Institute (May 15,2020)
Ontario Liberal Party leader and MPP John Fraser at Greenwood Court (May 15, 2020)
MPP Mitzie Hunter at Saint Elizabeth Health Care (May 15, 2020)
Prime Minister Justin Trudeau at Ottawa Public Health (May 14, 2020)
MPP Sol Mamakwa at Sandy Lake Nursing Station and Health Centre (May 14, 2020)
Premier Doug Ford, Merrilee Fullerton, Minister of Long-Term Care & Christine Elliott, Deputy Premier and Minister of Health at West Park Health Care Centre - (May 13, 2020)
Ontario Green Party Leader and MPP Mike Schreiner at Guelph Community Health Centre (May 13, 2020)
MPP Natalia Kusendova at Trillium Health Partners (May 13, 2020)
Deputy Premier and Health Minister Christine Elliott at Michael Garron Hospital (May 11, 2020)