RNAO's nurse practitioners: information and updates
Submitted by mscaini on Feb 22, 2021, 5:22pm

On this page: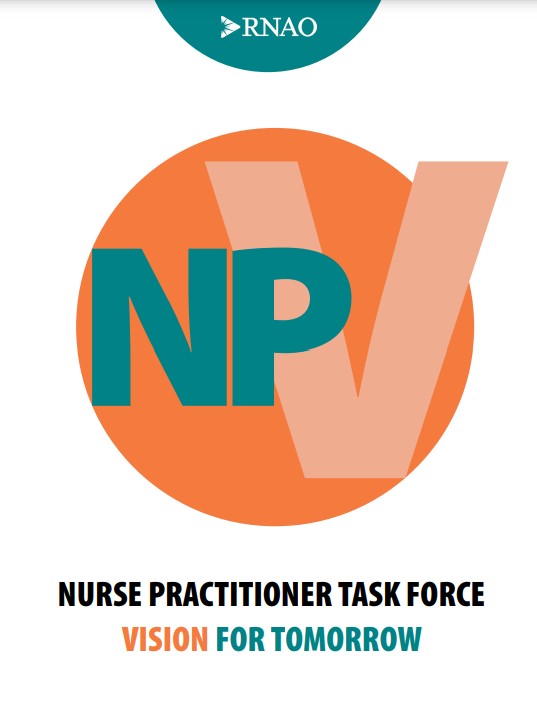 The NP Task Force's highly anticipated Vision for Tomorrow report was released on Feb. 25, 2021 during RNAO's annual Queen's Park Day event. Following the launch of the report, members of the Task Force hosted a panel discussion on the NP role.
About the report:
Vision for Tomorrow and its recommendations represent the collective experience and expertise of the Registered Nurses' Association of Ontario's (RNAO) Nurse Practitioner Task Force (NPTF). The 20 members of the NPTF work in all sectors of the health system and were led by co-chairs Dr. Doris Grinspun, RNAO CEO, and Dr. Elissa Ladd, deputy director of the International Council of Nurses' Nurse Practitioner/Advance Practice Nurse Network Global Academy of Research and Enterprise. The report is additionally informed by systematic and comprehensive literature reviews documenting key new directions for nurse practitioner roles and relationships, key informant interviews, and a scan of health systems in Canada and around the world. RNAO would like to thank task force participants for sharing their expertise, experience, skills and time so generously. RNAO, the nursing profession and our health system are better because of your dedication.
Additional resources:
April 21, 2021, 9 – 4:30 p.m. ET
This is a one day virtual event for nurse practitioners (NPs) to network, engage and learn. We will explore topics related to policy, clinical practice, quality improvement (QI) and patient safety, leadership, and research.
The objectives of the institute are to:
discuss and debate learnings from COVID-19 for NP practice and health system performance;
build leadership and advocacy skills to drive meaningful policy and practice changes;
exchange knowledge and expertise on clinical and client care issues of relevance to NP practice; and
facilitate sharing of NP research and QI activities.
Visit the event page and download the agenda. Stay tuned for registration information.
Exclusive to NPIG members, the NP Insider webinars cover a wide range of topics related to topics that matter most to NPs.
For access to NP Insider, become a member of NPIG. To learn more about the webinars, please contact Nursing Policy Analyst Catherine Jewell at cjewell@RNAO.ca.