Urge the Ontario government to protect health by developing a strong climate change plan
Submitted by rnaopolicy on Nov 15, 2018, 12:47pm
As the Environmental Commissioner of Ontario points out, the province is warming much faster than the global average, and the result is much more extreme weather, including more severe droughts, flooding, wildfires and tornadoes. The health effects include:
• increasing incidence of vector-borne diseases like West Nile and Lyme disease
• increased mortality from heat waves and extreme cold snaps
• illness from increased mold in flooded homes
• worsened asthma from more pollution and greater pollen exposure
• illness from pollution promoted by higher temperatures and smoke from wild fires
The entire planet – including our province – is hurtling towards dangerous thresholds of greenhouse gas concentrations and average temperatures. The planet is already 1 °C hotter than it was in the pre-industrial era, and it is on track to rise above 1.5 °C as early as 2030. That change would bring widespread heat waves, wild fires, droughts, famines and huge losses in ocean food production. This is due to skyrocketing concentrations of greenhouse gases like carbon dioxide. The graphs below show the sharp departure over the past 65 years from the previous 800,000 year trend.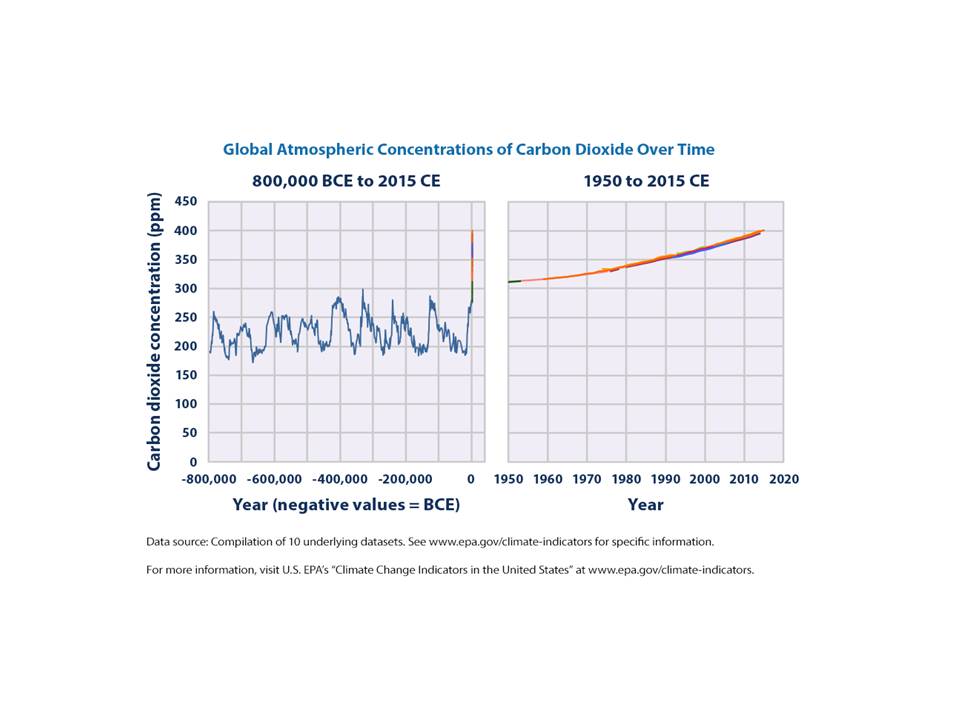 RNAO is concerned that Ontario's existing climate change measures have been scrapped, including carbon pricing, the energy conservation programs funded by that carbon pricing, 758 renewable energy contracts, legislation that supported renewable energy and legislation that committed Ontario to meet its greenhouse gas emission targets. Proposed Bill 34 actually discriminates against green energy. This makes tackling climate change much more difficult.
The Ontario government has announced plans to introduce a climate change plan, and is holding an anonymous on-line consultation on climate change. RNs, NPs, and nursing students must let the government know how urgent the situation is.
There are two things you can do:
1. Sign the action alert below and share it with your networks. Urge them to sign and send it to others. You can edit the subject line and email message to add further thoughts.
2. Provide your own comments to the climate change consultation at https://www.ontario.ca/form/tell-us-your-ideas-climate-change. This consultation is open until November 16, 2018.
Copies will be sent to:
Hon. Rod Phillips, Minister of Environment, Conservation and Parks
Hon. Doug Ford, Premier of Ontario
Hon. Christine Elliott, Minister of Health and Long-Term Care
Hon. Monte Mcnaughton, Minister of Infrastructure
Hon. Greg Rickford, Minister of Energy, Northern Development and Mines
Andrea Khanjin, Parliamentary Assistant to the Minister of the Environment, Conservation and Parks
Ian Arthur, Critic, Environment and Sustainability
Peter Tabuns, Critic, Energy and Climate Change
France Gélinas, Critic, Health Care
Jennifer K. French, Critic, Infrastructure
John Fraser, Interim Leader of the Ontario Liberal Party
Michael Schreiner, Leader of the Green Party of Ontario