RNAO highlights the central role of NPs during National NP Week 2023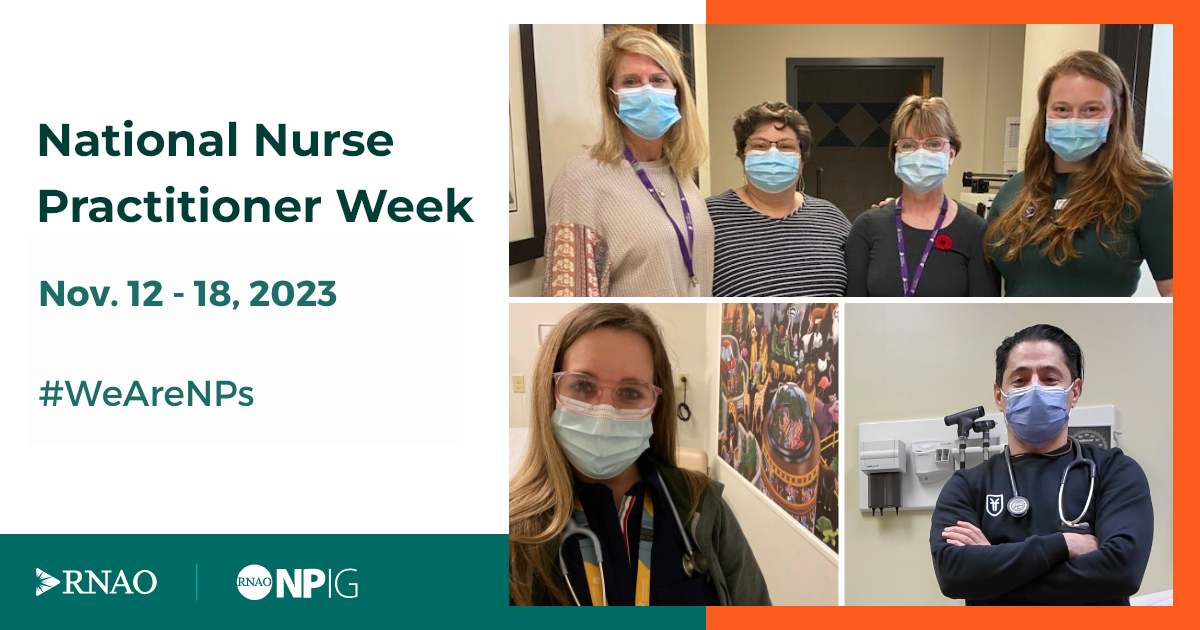 This year's National Nurse Practitioner (NP) Week is from Nov. 12 – 18, 2023. RNAO proudly supports the work of its NP members and continues to press for the full utilization of NPs across the health system, in publicly funded models of care – including NP-led clinics. Thank you to each and every NP across the province who is improving access and the health outcomes of Ontarians.
RNAO launched #WeAreNPs social media campaign alongside its NP Interest Group (NPIG) to celebrate NPs and increase public knowledge of NPs' scope of practice and their central contributions to health care in Ontario. RNAO encourages NPs from across Ontario to get involved by sharing facts and their stories broadly – shining the light on the NP role on social media. Learn more about the campaign and how to get involved by visiting the NPs and RNAO In Focus webpage.
RNAO released in 2021 Vision for Tomorrow report making eight recommendations to enhance and expand the role of NPs. With proper funding and supports, NPs can transform the health system and provide every Ontarian with the care they deserve, wherever they are, faster.
Proposals for NP-led clinics – publicly funded with no user fees to clients – are waiting for the green light from the Ontario government. Let's call on the government to celebrate NP Week with this announcement.
On Nov. 14, RNAO and NPIG are hosting the 10th annual NP Knowledge Exchange Symposium. Themed #WeAreNPs, the virtual event features guest speakers – including Ministers Sylvia Jones and Stan Cho – and sessions on the role of NPs and ways to enhance and expand their role so more Ontarians benefit from their outstanding care. RNAO members can register for free and non-members must join RNAO to register. For full information, visit the event page and download the agenda.
Happy NP Week! Join RNAO in celebrating: share messages on social media using #NPWeek and tag @RNAO on X (formerly Twitter) and @registerednurses on Instagram.