RNAO commemorates Emancipation Day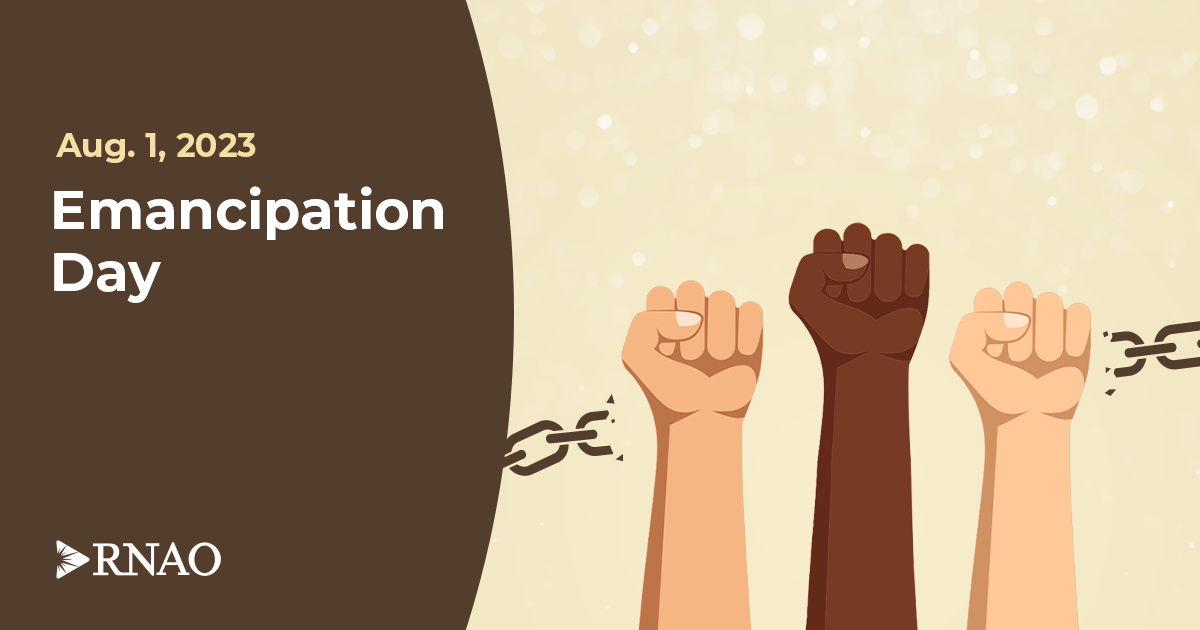 Aug. 1 is Emancipation Day. Today, the Registered Nurses' Association of Ontario (RNAO) encourages all Canadians to acknowledge the history of slavery in Canada, celebrate its abolishment, and reflect on the ongoing fight against anti-Black racism and discrimination.
In response to the widespread systemic racism that exists within the nursing profession – and fuelled by George Floyd's murder in May 2020 – RNAO launched its Black Nurses Task Force (BNTF) in June 2020. The task force's goals: to move beyond solidarity and interrupt complicity, promoting transformational change.
In February 2022, the BNTF released its groundbreaking report, Acknowledging, Addressing and Tackling Anti-Black Racism and Discrimination Within the Nursing Profession. The report features 19 recommendations to end anti-Black racism targeted towards and experienced by Black nurses within all practice settings, nursing organizations, regulatory bodies, associations, and the broader health-care system. 
Emanating from the BNTF, the Black Nurses Leading Change (BNLC) interest group was established by RNAO's board of directors in 2021. This interest group continues to inform RNAO and our members on issues affecting Black nurses and nursing students. BNLC advocates against anti-Black racism, offers mentorship and provides continuing education. It provides a safe space for Black nurses and nursing students and their allies to network and interact. 
Together with the BNTF and the BNLC interest group, RNAO continues to work with its members to address and tackle anti-Black racism and discrimination in the nursing profession. 
Ending systemic racism and all forms of discrimination in the health profession is central to solving the deepening health human resource crisis, and RNAO is determined to do so.
To learn more about RNAO's work and advocacy, explore the Black nurses and RNAO In Focus theme webpage.