RNAO commemorates #EarthDay: All-party debate and new position statement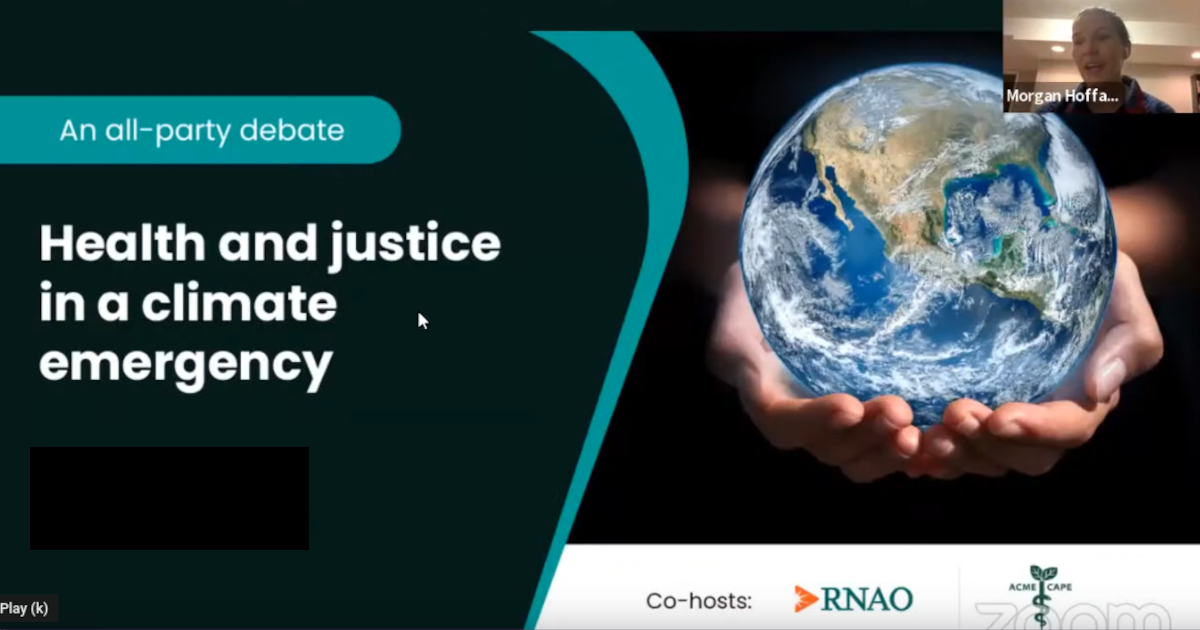 To mark Earth Day on April 22 and the upcoming provincial election on June 2, RNAO and the Canadian Association of Physicians for the Environment's Ontario Chapter (CAPE-ON) co-hosted an all-party virtual debate on April 19, titled: Health and justice in a climate emergency. 
Moderated by Dan Riskin, former co-host of Daily Planet, the following political representatives responded to our invitation and shared their party's positions on specific environmental issues, including climate change, urban sprawl and health equity: 
Dianne Saxe, deputy leader of the Green Party of Ontario
Peter Tabuns, MPP for Toronto-Danforth, NDP critic for climate crisis and energy 
Katie Gibbs, candidate for Ottawa Centre, Liberal Party of Ontario
RNAO President Morgan Hoffarth provided opening remarks and Dr. Mili Roy, co-chairperson of CAPE-ON, shared closing thoughts. "Healthy debate is integral to a healthy democracy," says Roy. "Our window to act on climate is closing rapidly... We as voters must choose our government wisely and continue to hold that government accountable in safeguarding our wellbeing by safeguarding the environment."
In case you missed it, watch the recording of the debate on RNAO's YouTube channel and read RNAO's live Twitter thread. RNAO's recommendations on the environmental determinants of health for the next elected government are outlined in its 2022 provincial platform.
On Earth Day, RNAO released its position statement on climate change. 
As mentioned in the statement, "the fight against climate change demands urgent and sustained action from international, national and sub-national levels of government to mitigate a looming humanitarian catastrophe." 
The position statement also includes 11 calls to action for the federal, provincial and municipal governments to combat and adapt to climate change while assuring that costs and benefits are equitably shared.