Switch off for Earth Hour on Saturday, March 25 at 8:30 p.m. local time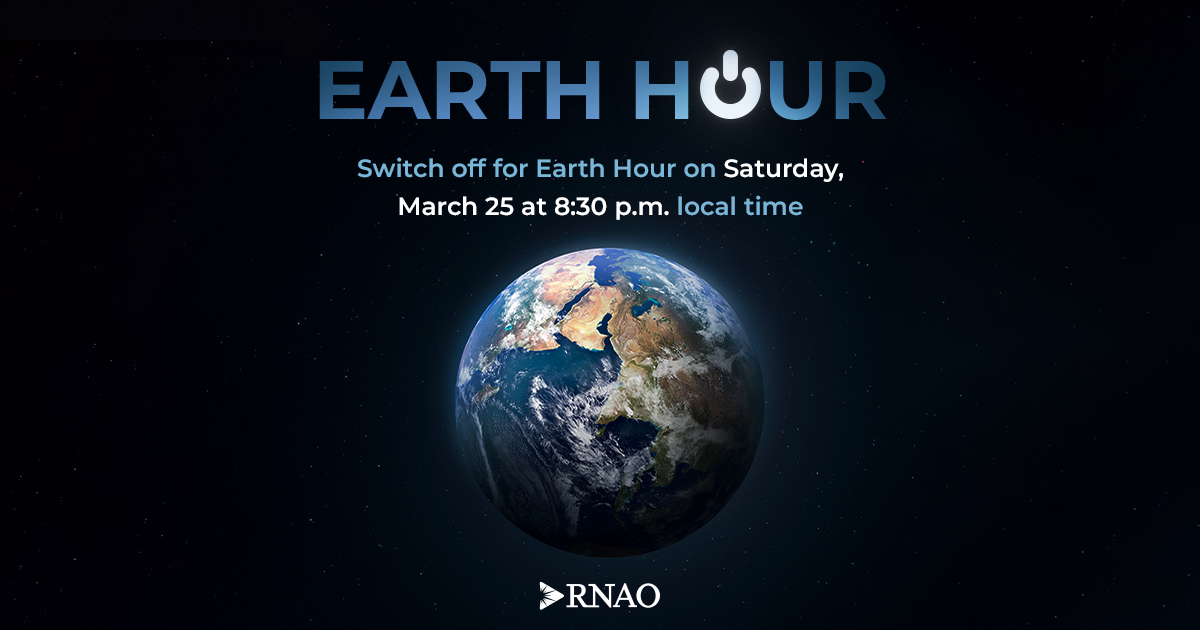 The environment is a key determinant of health and we all have a role in conserving and protecting it for current and future generations. Temperatures are rising, human activity is driving climate change with increasing greenhouse gas emissions, and uncontrolled urban sprawl is eliminating water sources and protected land, and diminishing nature's capacity to sustain life.
A liveable future for all is possible, if we take urgent climate action, says a recent United Nations (UN) report. António Guterres, secretary-general of the UN, described the report as a "how-to guide to defuse the climate time-bomb."
Immediate and consistent action on climate change is a must to avoid further damage to all living species. Last year, RNAO released a position statement on climate change, repeating several calls to all levels of government to implement a comprehensive climate action plan, including a water policy to ensure everyone has access to clean, safe water. We are concerned that the positive steps taken to date are nowhere near enough. Our federal government continues to provide massive subsidies to the fossil fuel industry. The Ontario government continues to dismantle environmental regulation, build new highways, promote urban sprawl and endanger the Greenbelt. The city of Toronto is cutting public transit budgets and services.
Earth Hour gives people the opportunity to do something positive for the planet we call home.
Join us – switch off your non-essential lights on Saturday, March 25 at 8:30 p.m. local time in support. Use this hour to reconnect with Earth, and to learn more about the detrimental effects of climate change and ways to reverse its impact. #BiggestHourForEarth