RNAO remembers
RNAO members traditionally lay wreaths at cenotaphs and city halls across the province to honour soldiers and the nurses who took care of the wounded. Amid the COVID-19 pandemic, ceremonies will be held virtually for the second year in a row, however, we will still pay tribute to the men and women who have served and continue to serve Canada during times of war. Join us in wearing a poppy and pausing for a moment of silence.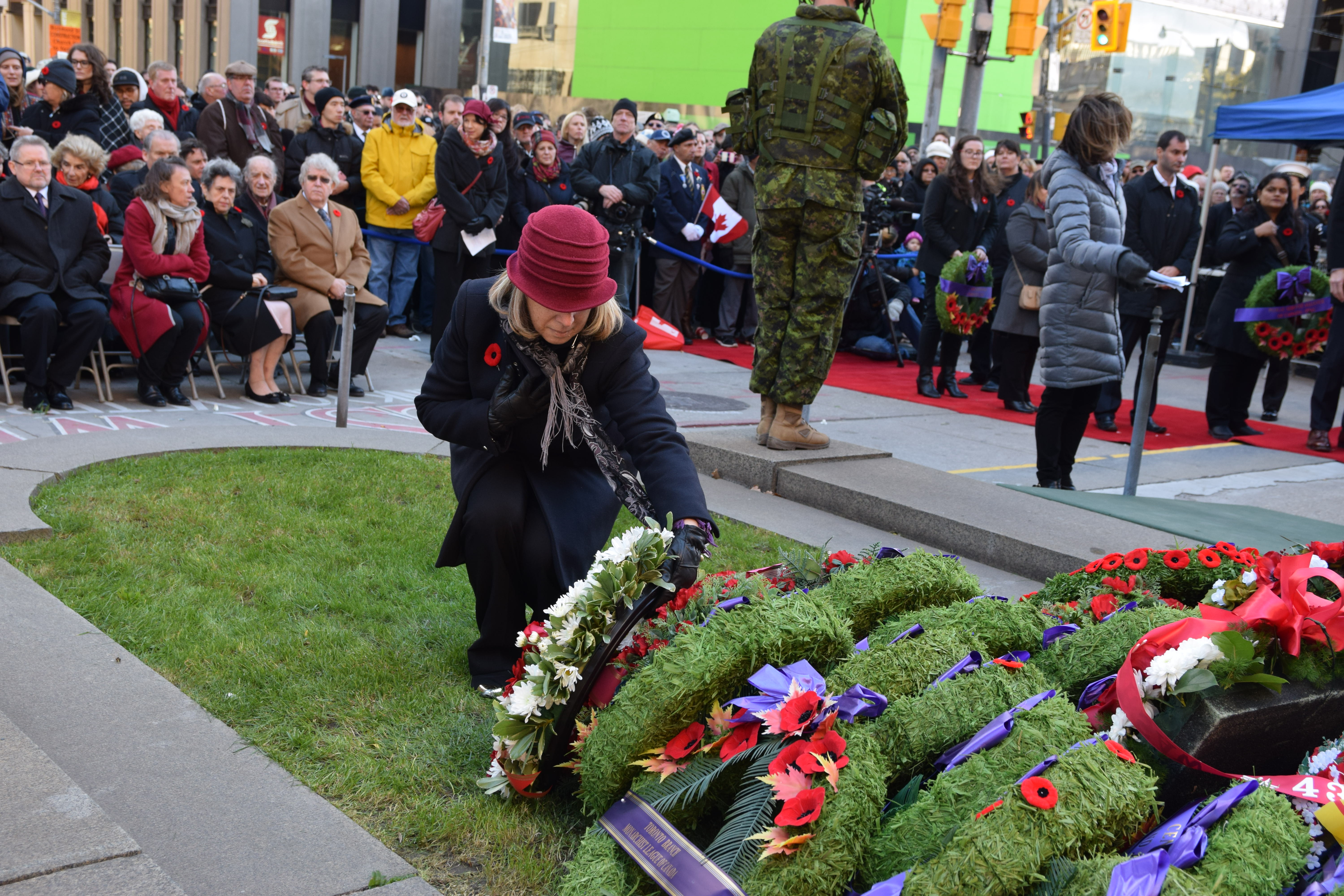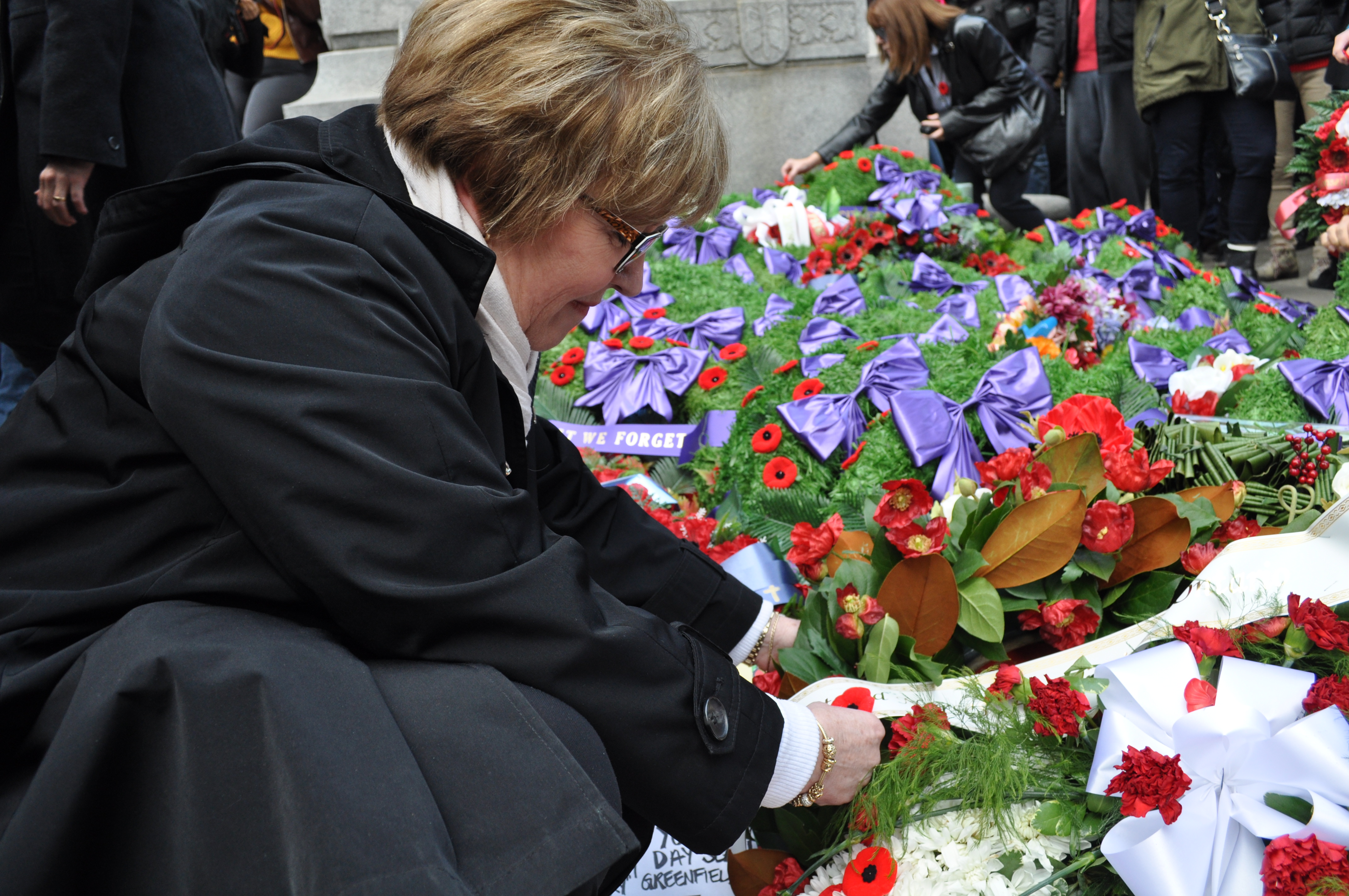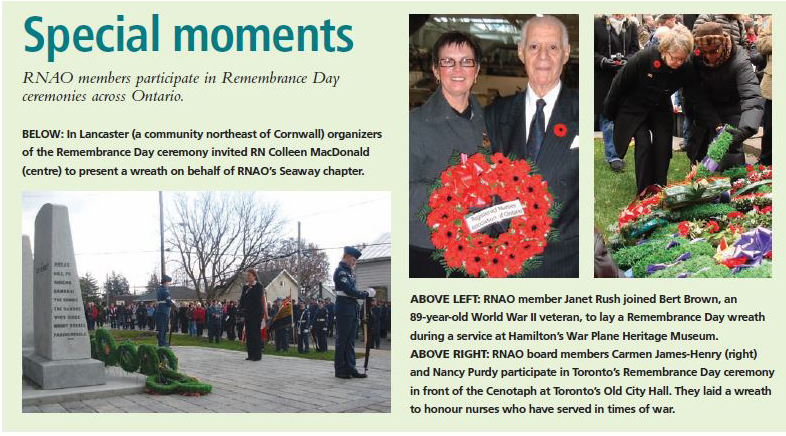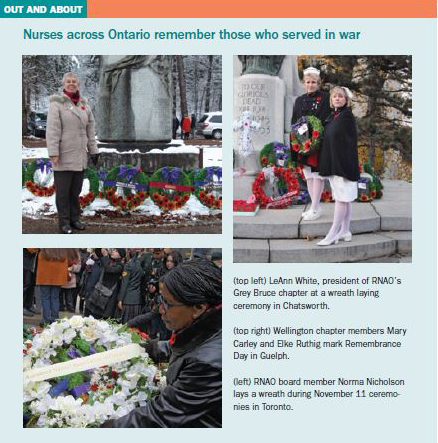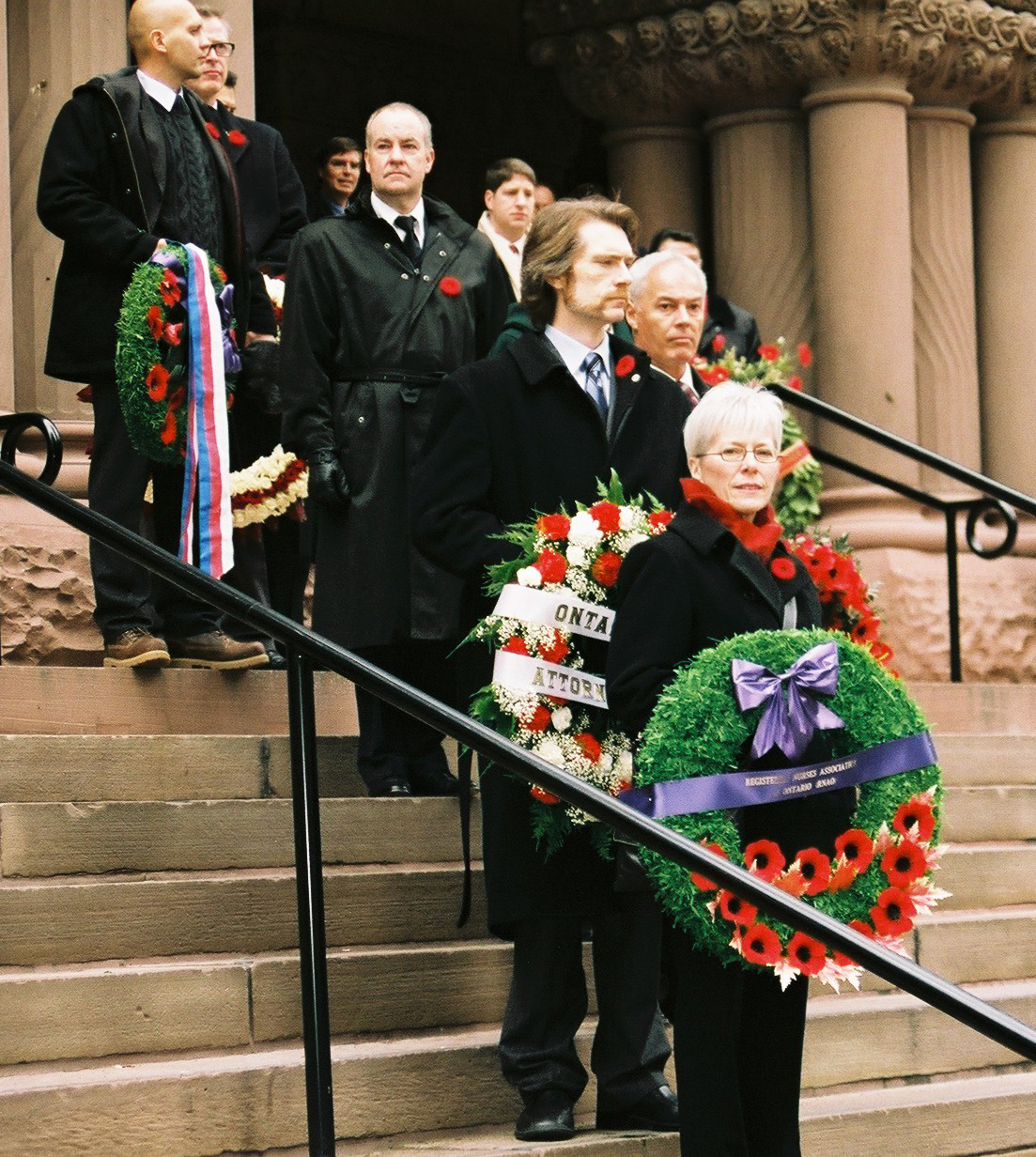 To learn more about how our members have paid tribute in the past, and to read the profile of former nursing sister Betty Brown, originally published in Registered Nurse Journal, Nov/Dec 2005, click here.
Betty Brown served in the Second World War, and shared her experiences not only with
Registered Nurse Journal
, but also with visitors to Ottawa's war museum as a veteran volunteer. She passed away in
November 2019
; just 11 days shy of her 102nd birthday. Her story of bravery and service resonates as much today as it did 15 years ago. This Remembrance Day, we celebrate and thank Betty for her zest for life and her service to her country.
RN remembers mission to Sicily, reunion with brother
By Kimberley Kearsey
Name: Betty Brown
Occupation: Retired Nursing Sister
Home Town: Ottawa, Ontario
Why military nursing?
Betty (Nicolson) Brown had just graduated and started work as an OR nurse at Winnipeg General Hospital in the early 1940s when a surgeon from the army barracks at Fort Osborne walked into the hospital in search of new nursing recruits. At only 23, and still too young to go overseas, Brown was afraid the war would be over before she had a chance to serve her country. She realized this was her chance, and jumped at the opportunity to enroll. It was a job that made perfect sense to Brown, whose father, brother and two sisters served in the First World War.
By 1942, Brown was on her way to a Canadian Red Cross Hospital in England. She was there for a year before beginning her journey to the battlefields. "In the spring of '43, we thought something was in the wind because we started training," she says of the first signs of a very secretive mission to the Mediterranean. "We went on long marches, had gas drills, and started learning tropical medicine."
Sure enough, the hospital was preparing for a mission that would see a massive convoy of ships leaving Liverpool in June. In the history books, Brown's hospital is referred to as "the first hospital of British and allied armies to make a beach landing in an army invasion."
And what a landing it was.
Ready for the toils of war, 50 nurses, a matron, and 24 medical officers poured onto just one of the many ships headed to Sicily that summer. They sailed to Algiers, docked for the night, and then headed to Augusta Beach to land. That's when the German Army started to attack. "All the nursing sisters were given life jackets and went below," Brown recounts. "We were fortunate, we weren't hit, but our supply ship beside us was hit and it went down with all our supplies and uniforms."
Amid the chaos, the nursing sisters rappelled down the side of the ship, each clad in their trademark navy blue skirt, blouse, tie, fedora hat, stockings and shoes. "We never, ever dreamt we would be on a boat in a convoy and going over to land with troops," Brown says, adding the landing officers on shore were "aghast when they saw nursing sisters coming off the ship. They didn't expect to see women at all."
Responsibilities
Once on shore, the hospital took over a building not far from the harbour. It was a small space and cots lined the inside and outside walls of the facility. Brown remembers that although the German Army continued to bomb the harbour, and soldiers on the outside cots would be hit by shrapnel from the exploding shells, the greatest flux of patients at the beginning of the hospital's stay in Sicily were suffering from malaria and dysentery. Soldiers were also treated for post-traumatic stress disorder, or shell shock as it was known during the war. As an OR nurse, Brown was involved in all the surgical procedures at the hospital, treating burns and injuries from explosions. She remembers when penicillin was first introduced, and the profound effect that had on the care of the soldiers. "We did what we could with what we had," she remembers of the first days in Sicily without their supplies. It was difficult but she says they were fortunate enough to find a cache of German supplies left behind by the retreating army.
Challenges
Brown admits that although she could probably recount hundreds of stories of tragedy and loss, her most vivid and troubling memory is one of a Sicilian man who died while plowing his land. This first and most troubling exposure to death came when she and the other staff were setting up supplies in the OR and heard the sounds of wailing getting closer and closer to the hospital doors. When they looked to see where the noise was coming from, they saw a donkey cart surrounded by mourning, screaming Sicilians who were hoping for help to save a man who had run over a land mine. "We realized there was nothing we could do," Brown remembers. "That was the first awful sight that I had seen there."
Memories of a job well done
In many ways, the tragedies of war affected Brown on a personal level, especially when she found out her 18-year-old brother, a fighter pilot for the 450 squadron, was shot down over the desert by enemy fire while Brown was training in England. "I was always trying to catch up with him," Brown says. "That was my plan when I joined the forces; I was going to go over with Donald." Brown would later find out by telegraph that her brother had been found and taken to safety by Arabs in the desert. His rescuers took him to their tent, dressed him in Arab clothes, darkened his face, and moved him back to the allied forces over the span of a one-week period. She was relieved to hear he was safe, but still didn't know if she'd ever meet up with him while overseas.
"One day I was leaving the OR and I always walked through the ward to talk to the boys before I left. I saw this young air force guy and I went over to him; he had just arrived from the desert," Brown recounts. "I said to this fellow, I have a brother in the air force and he was with the 450 squadron in the desert. He said to me 'the 450 squadron isn't in the desert, they're here in Sicily.'"
Brown was ecstatic, and later found out her brother was staying a short distance from the hospital. "I was absolutely thrilled. I couldn't believe it," she says, he voice cracking with emotion. Later that night she was sitting on her cot, sewing, when one of the nurses came into the room and yelled from the opposite end: "Your brother's downstairs."
"I jumped off my cot, threw the scissors and ran down the corridor," Brown says. "There were these wide stairs and the guards were at the bottom of the stairs at a table to one side. I saw Donald at the bottom of the steps, covered in dust, with shorts on, and desert boots up to his knees and an Aussie hat because he was with an Australian air force unit. I got about six steps down and I jumped. I remember one of the guards at the table saying 'oh, it's alright…it's her brother.'"
Future plans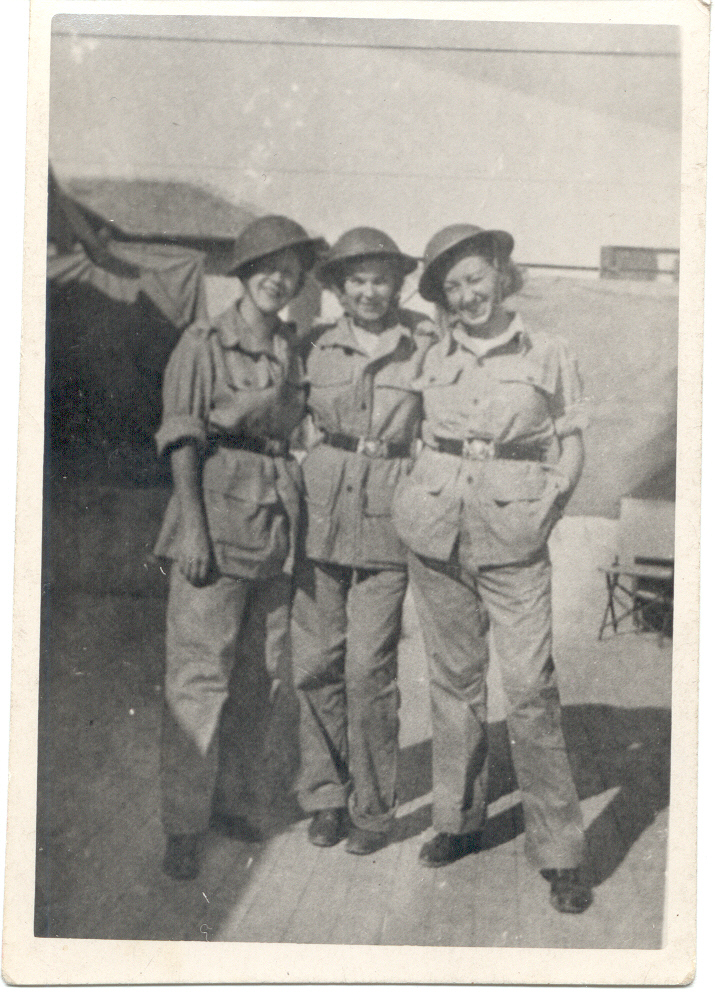 This year has been a busy one for Brown. She was selected last spring to represent the Canadian Nursing Sisters at the 60th anniversary of D-Day on Juno Beach in Normandy. She joined then Governor General Adrienne Clarkson and the Prime Minister and his wife for a one-week visit with dignitaries from around the world.
"I'm pleased to do it," she says of talking to people and giving presentations on behalf of the Nursing Sisters. "I'm very proud of all those girls (nursing during the war). It was incredible. I am really proud of all the young men who gave the ultimate sacrifice. I think it was an absolutely wonderful experience and I get a really warm feeling when I think about all our boys."
Brown says she'll also continue her 11-year tradition of volunteering at Ottawa's war museum, where she talks to visitors about her experiences.
There are no signs this 88-year-old veteran has any plans of slowing down. And the requests keep coming. In early November, she was invited to drop the puck at an Ottawa Senators hockey game.
"When I was first married and living in Ottawa, nobody even knew I was a nursing sister because we never talked about what we did during the war," Brown says. "I'm so happy that people have taken such an interest in the history of our nursing sisters."