RNAO marks the third National Day of Observance for COVID-19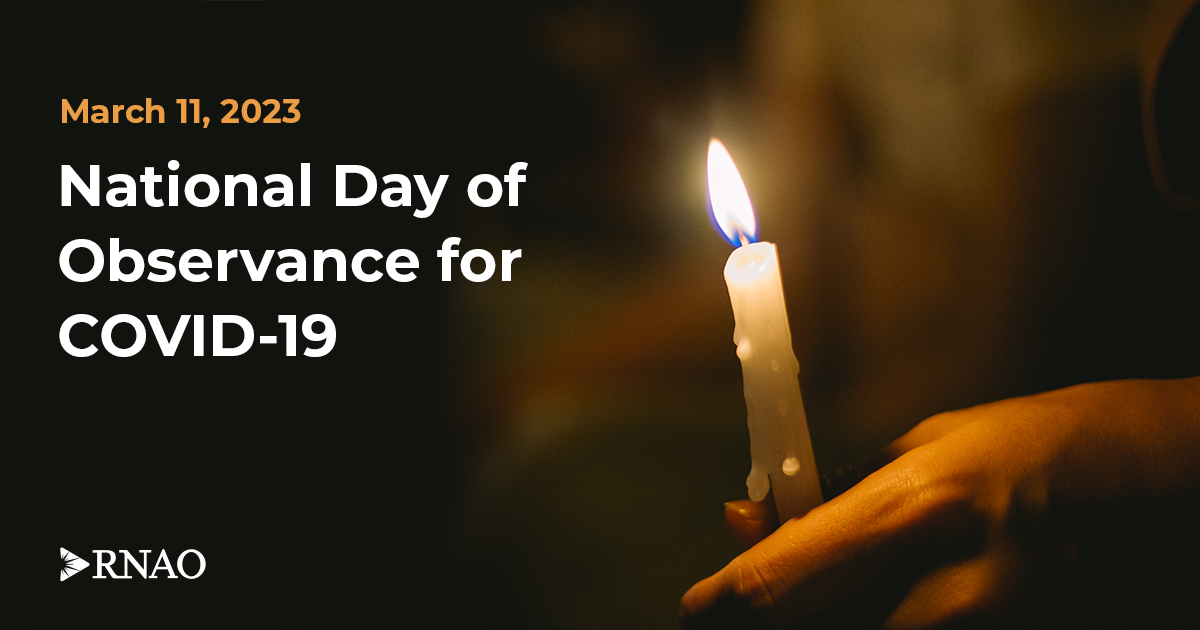 Three years ago, the World Health Organization (WHO) declared COVID-19 a global pandemic.
March 11, 2023 marks the third National Day of Observance for COVID-19. Today, we remember those who lost their lives or their loved ones to the virus. We also recognize the unwavering dedication of nurses and other health workers throughout the pandemic.
Since the onset of the pandemic, 16,204 Ontarians have lost their lives due to COVID-19, including 5,329 long-term care (LTC) residents and 13 LTC staff members.* The tragedy of preventable deaths has exposed inequities in all sectors of our health system, causing our most marginalized populations – Indigenous, Black and racialized communities, and people on low incomes – to suffer the most.
Many others have died as a result of the pandemic, including people awaiting care for other health problems due to shutdowns or delays to the health services they needed. Thousands more continue to experience poorer quality of life through long COVID, post-COVID-19 conditions and pandemic-related mental health stressors.
A cruel reality: our province's most vulnerable populations have suffered the most throughout this pandemic, and continue to be at greater risk. To better prepare for the next health emergency, Ontario must address sources of inequity across our society. Indigenous peoples, Black and racialized communities, 2SLGBTQI+ people, social assistance recipients, casualized workers and other vulnerable populations will remain in insecure situations until governments improve their economic and social supports and end systemic racism and discrimination across the board.
Nurses and other health-care workers have valiantly fought COVID-19 for the past three years – a struggle that will continue beyond this tragic anniversary. We commend nurses and all essential workers for their staunch commitment, perseverance, expertise and compassion.
Let us take a moment to pause, reflect and honour the memory of the people no longer with us, and to support their families and friends. 
And, let us ensure we never let anyone fall through the cracks of our system again. The virus is still in our communities, and people continue to be hospitalized. We urge everyone to get all eligible doses of the vaccine. Let's do our part – be safe. Get vaccinated. Get boosted. Wear your mask. Think "we," not "me."
*This data is as of March 10, 2023.