Join us for our #FallTour: Oct. 16 - 26, 2023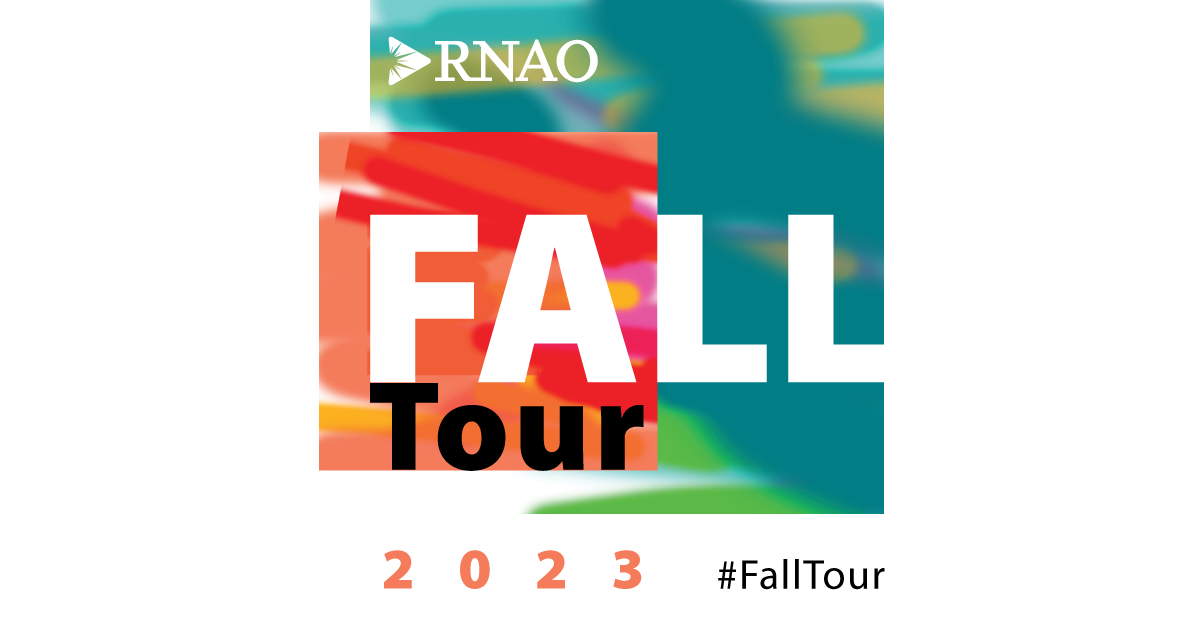 Do you have questions or thoughts to share about nursing, health, or health care? Do you have an experience to tell as an RN, NP or nursing student?
Share them during RNAO's ninth annual Fall Tour. RNAO President Dr. Claudette Holloway, CEO Dr. Doris Grinspun and President-Elect Lhamo Dolkar will connect with members across the province about your views, questions and concerns related to your practice or the health system.
Participating chapters, regions without chapters and interest groups will be hosting either a virtual or in-person visit for members and non-members to attend.
For more information, please see our media advisory. 
Join the conversation by taking photos and using the hashtag #FallTour in your social media posts. Remember to wear your RN, NP or nursing student pin. 
Find one or more visits you would like to attend:
Kawartha-Victoria Chapter – Oct. 16 from 6 to 8 p.m. ET 

Nursing Students of Ontario – Oct. 16 from 6 to 8 p.m. ET 

Region 1, Community Health Nurses' Initiatives' Group and Nursing Research Interest Group – Oct. 17 from 6 to 8 p.m. ET

Lakehead Chapter – Oct. 18 from 1 to 2:30 p.m. ET

International Nursing Interest Group

, Region 8 (including Durham, Kawartha-Victoria, and Quinte Chapters) and Ontario Nurses for the Environment Interest Group 

– Oct. 18 from 6 to 8 p.m. ET 

Mississauga Chapter, Staff Nurse Interest Group and Brampton Chapter – Oct. 19 from 7:30 to 9 p.m. ET 

Region 7 (Toronto East) – Oct. 19 from 7 to 8:30 p.m. ET 

Kingston Chapter – Oct. 23 from 6 to 8 p.m. ET  

Waterloo Chapter – Oct. 23 from 6 to 8 p.m. ET 

Middlesex-Elgin Chapter – Oct. 24 from 6:30 to 8 p.m. ET 

Algoma Chapter – Oct. 25 from 6 to 7:30 p.m. ET 

Lanark-Leeds-Grenville Chapter – Oct. 25 from 4 to 6:30 p.m. ET
                                                                   – Oct. 26 from 8:30 to 10:30 a.m. ET