Honouring Earth Day 2023 (April 22)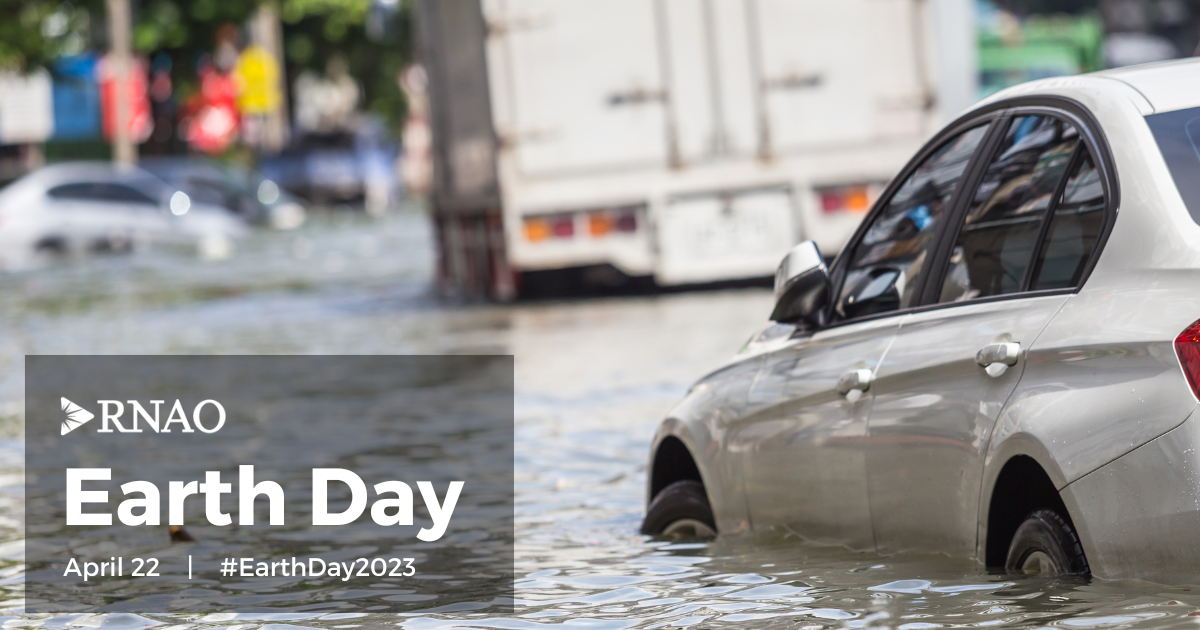 On April 22, RNAO marks Earth Day to remind us that our planet is facing dual climate and extinction emergencies. Unless we dramatically change our policies, we are endangering the future of humanity.
Nurses know that the environment is a key determinant of health, and that we are living through a climate emergency. Human-induced climate change is causing dangerous and widespread disruption in nature and affecting the lives of billions of people around the world, despite efforts to reduce the risks. Millions of Canadians have already been affected by floods, atmospheric rivers, heat domes, droughts, fires, eroding coastlines, super storms, disappearing ice and melting permafrost.
The cost in terms of human suffering and ill-health is already incalculable, and it will get exponentially worse if we don't take aggressive action. Scientists in the Intergovernmental Panel on Climate Change (IPCC) say the people and ecosystems least able to cope are being hardest hit. They are right: vulnerable, poor and racialized populations are the first to be affected and the least able to protect themselves. 
Climate change is real. It is dangerous. It is frightening. But scientists say it can and must be addressed with urgency to protect health and life – and action must be taken now! When we take measures to protect land, air and water through consistent, sustainable behaviours and actions – such as eliminating all forms of pollution, planting trees, and fighting climate change – we also protect the health of people and communities. In its position statement on climate change, RNAO says: "The fight against climate change demands immediate and sustained action from international, national and sub-national levels of government to mitigate a looming humanitarian catastrophe."
RNAO continues to call on all levels of government to recognize the ecological emergency before us and take action to ensure costs and benefits are equitably shared, especially with Indigenous and other vulnerable communities. The federal government must develop and implement a comprehensive climate action plan – and it must immediately cease subsidies to the fossil fuel industry. Toronto and other urban centres must get the support they need to shift from cars to public transit, to adapt to extreme weather events, to electrify services and build the energy-efficient and equitably-accessed housing stock that is required.
RNAO has long fought for environmental standards at the provincial government level as fundamental to health – including protecting Ontario's Greenbelt. We are extremely concerned by the absence of a science-based provincial climate plan and the province's recent assault on environmental standards. Bill 23 and related amendments will remove a huge tract of land from the Greenbelt and make it harder for municipalities to use green building standards. If you haven't already, consider signing and sharing RNAO's Action Alert, Hands off the Greenbelt, premier!
We urge RNAO members to take action in improve environmental health. One way to gain a deeper understanding is by joining the Ontario Nurses for the Environment Interest Group via join.RNAO.ca.
Engage in the conversation on Twitter: Tag @RNAO and use #EarthDay to share ways you're engaging in addressing the environmental crisis.