A memorable BPSO experience in Canada: June 30 - Sept. 30, 2023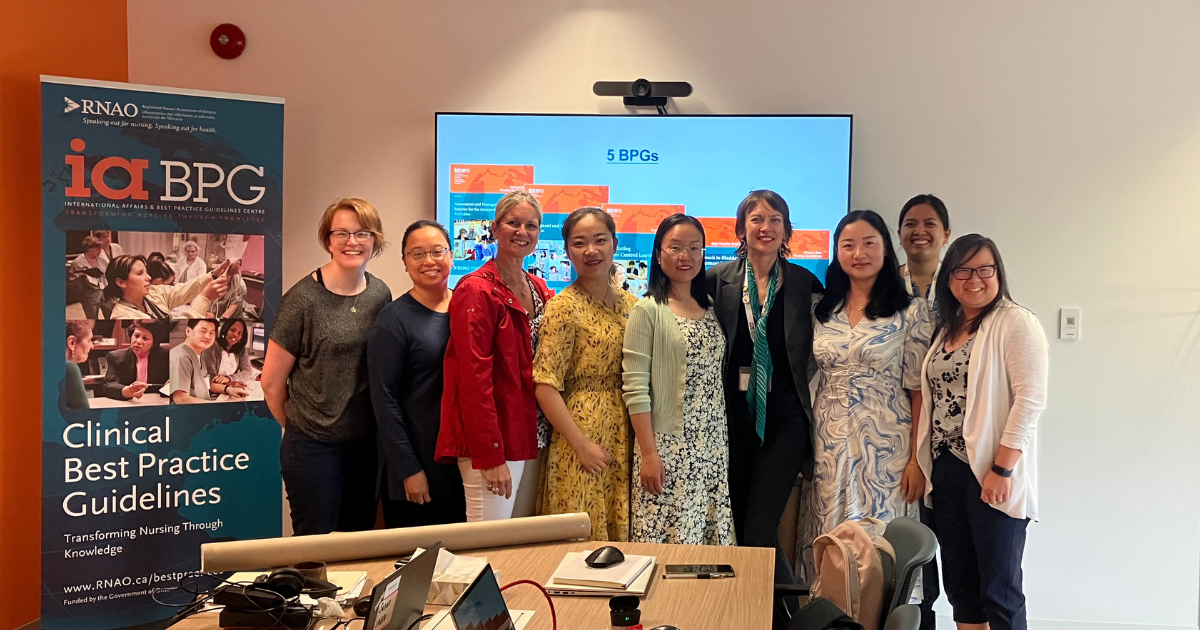 This summer, RNAO hosted three nursing colleagues from our Best Practice Spotlight Organization® (BPSO®) partners at the Lanzhou University Second Hospital in China for a three-month study visit.
Ruiling Nan, Haixia Wang and Rendanji Mao share reflections and key highlights of their visit:
During these three months, we learned many concepts and practical strategies about BPG development, implementation and evaluation from the RNAO.
The highlight was our visits to six BPSOs in the Toronto area: four acute care hospitals, one long-term care (LTC) home and one academic BPSO. We learned about different strategies to implement best practice guidelines (BPG) across different sectors. For example, at one of the acute care hospitals, Humber River Health, we observed North America's first fully-digital hospital, they have a central digital system which monitors patient quality and safety data. At the command centre, it is possible to monitor exactly what is happening throughout the hospital including the numbers of housekeeping staff in each ward.
In addition, we visited Toronto Metropolitan University (TMU), an academic BPSO in downtown Toronto. We were able to meet faculty and students, and tour their simulation lab where students have the opportunity to practice according to BPG recommendations. We also learned how TMU used an evidence-based process to develop a user friendly and easy to access "BPG in action website."
At a LTC home, Villa Colombo, we learned about the RNAO Clinical Pathways initiative. These pathways, designed for LTC, aim to improve care of residents and their families by embedding clinical BPG recommendations into documentation. The proven practices are implemented under the guidance of LTC home leaders, nurse practitioners and point-of-care staff. RNAO Clinical Pathways are effective because they incorporate the four Cs: clinical expertise, credibility, collaboration, co-design. Nurses with clinical expertise integrate evidence and experience into their practice.
We also learned more about the Nursing Quality Indicators for Reporting and Evaluation (NQuIRE) data system—the first international quality improvement initiative of its kind that helps BPSOs systematically monitor the progress and evaluate the outcomes of BPG implementation. We better understand structure, process and outcome indicators related to BPGs and the NQuIRE data system overall.
Toward the end of the study visit we attended the RNAO BPSO Knowledge Exchange Symposium to celebrate 20 years of BPSOs. One of the highlights was the intercultural development workshop by Dionne Sinclair (Center for Addiction and Mental Health). We learned that you can't use one strategy for everyone, but rather you need to build a relationship with each individual.
We also learned about using storytelling as a strategy to share BPG knowledge with others. In addition, we learned that there are seven key roles of champions, according to the newly released champions competency framework: advocates, collaborators, communicators, content and context experts, facilitators, mentors and leaders. We learned that as a leader, "change starts with you." As part of our future goals, we plan to integrate some of the strategies learned from the symposium and teach the champion competency framework to our champions in Lanzhou.
Thank you to RNAO for collaborating with LUSH and supporting us with BPG development, implementation, and evaluation. The DNA of evidence-based nursing practice woven into your organizational culture. Thank you to the RNAO team for guiding our learnings throughout these three months. This is a precious memory that we will never forget!