Recap of Nursing Week 2022: #NursingThroughCrisis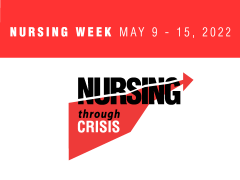 On May 9 – 15, RNAO celebrated Nursing Week with a lineup of informative and engaging virtual events to mark the theme "Nursing Through Crisis." Despite the many challenges nurses encountered during the past year, they continued to step up to deliver and advocate for quality care.
RNAO's 2022 Nursing Week portal served as a one-stop shop for members and non-members to explore how RNAO was commemorating the week. The portal features the:
greeting video from RNAO President Morgan Hoffarth, President-Elect Dr. Claudette Holloway and RNAO CEO Dr. Doris Grinspun
official Nursing Week message from Grinspun and Hoffarth to all nurses
social media activity
event listing with links to registration
RNAO chapters' events
The many events hosted during Nursing Week focused on a variety of topics to facilitate invigorating and insightful discussions. The events were well attended and showcased how nurses have the solutions to overcome the current crisis and are driven to inspire and mobilize others to help address it. The lineup of events included:
During the events, RNAO shared live coverage on Twitter to keep its followers informed on the dynamic presentations and discussions occurring.
RNAO members also held events during Nursing Week: RNAO's Kingston and the Islands and Durham Northumberland chapters hosted all-candidates meetings for their members to hear about where each provincial party stands on various nursing and health-care issues, including ones outlined in RNAO's 2022 provincial election platform, Ontario's nursing crisis: Your health, your health system.
Hundreds of participants joined the events throughout the week to ask thoughtful questions, engage in robust conversations, and demonstrate the resilience and determination of nurses in all roles across all sectors to provide high-quality care to Ontarians. Thank you to everyone who participated in RNAO's 2022 Nursing Week events.