Highlights from 97th #RNAOAGM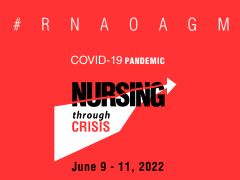 More than 600 RNAO members and guests attended our 97th Annual General Meeting (AGM)! If you were among the attendees, thank you. The energy was palpable and the discussions were vibrant!
Held virtually June 9 – 11 with the theme "COVID-19 Pandemic: Nursing Through Crisis," the AGM featured many engaging sessions, inspiring guest speakers and calls to action for nurses to continue to influence change in the profession and health system at large.
Day one (live Twitter thread):
Traditional Indigenous opening by Elder Perry McLeod-Shabogesic
Celebration of 15 newly designated Best Practice Spotlight Organizations
Remarks from representatives of Ontario's four main political parties
Video messages from international nursing colleagues Dr. Pam Cipriano, president of International Council of Nurses, and Dr. Kenneth Dion, president of Sigma Nursing
Day two (live Twitter thread):
Day three (live Twitter thread):
Closing keynote presentation featuring seven dynamic RNs and NPs: How will nursing recover post pandemic and what will our profession look like?
During AGM, RNAO also released its 2021 – 2022 Annual Report, and shared a video recap on its extenstive media activity.
RNAO was pleased to have its Peel Chapter host this year's event and appreciates the hundreds of nurses who participated in the meeting or watched the livestream. RNAO looks forward to seeing you in-person next year at the 98th AGM.
In case you missed it, all sessions are available to watch on RNAO's AGM portal.