Nursing Week 2022: May 9 – 15, 2022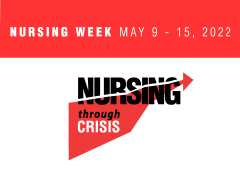 This year, RNAO will mark Nursing Week (May 9 – 15, 2022) with the theme: "Nursing Through Crisis." You're invited to join the virtual festivities alongside your nursing colleagues to honour our profession and help to mobilize change where it's needed.
Events will include the monthly COVID-19 Webinar Series on May 9, the annual Nursing Now Ontario Awards ceremony and the Nursing Through Crisis: A Comparative Perspective media conference on International Nurses Day (May 12), and a lot more.
For the full list of events, visit RNAO's Nursing Week 2022 portal.
Join the conversation on Twitter by tagging @RNAO and using #NursingWeek2022 in your tweets.