The clock is ticking: 13 days left for Premier Ford to #RepealBill124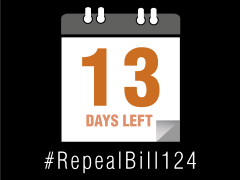 On Nov. 14 at the #RepealBill124 rally in Toronto, RNAO CEO Dr. Doris Grinspun announced that Premier Ford has 30 days to repeal Bill 124. The deadline is on Dec. 14, less than two weeks away.
Join RNAO's call to demand the premier immediately repeal Bill 124, which caps salary increases at one per cent – well below inflation. Take action by signing and sharing RNAO's Action Alert and retweeting today's tweet with the countdown. Look out for the remainder of RNAO's countdown tweets in coming days to share with your followers.
Premier Ford, this is your opportunity to repair the damage and help rebuild the nursing profession. Repeal Bill 124 now.