Sign and share RNAO's recent Action Alerts – January 2022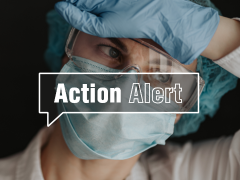 A new year brings more opportunities to use your voice to impact change. Action Alerts are a key part of RNAO's policy and advocacy work as they allow nurses, other health-care workers and members of the public connect with political leaders of important nursing and health-care issues.
Take action: please sign and share the following Action Alerts:
For more information on RNAO's extensive policy work in areas including long-term care, opioid overdose crisis and health system transformation, please visit RNAO.ca/policy.