RNAO deeply disappointed with Premier Ford's decision on mandatory vaccination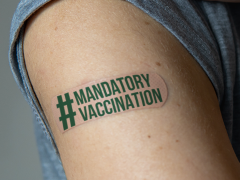 On Nov.3, RNAO responded to the news that Premier Doug Ford will not mandate COVID-19 vaccinations for health-care workers, leaving health organizations to do even more heavy lifting in the midst of this deadly pandemic.
This leaves Ontarians at risk of infection from health-care providers and health-care providers at risk of infection from each other.
As RNAO's media release states: "the premier's decision is mismanagement for several reasons. Premier Ford's own minister of long-term care, Rod Phillips, announced on Oct. 1 that vaccination for all nursing home staff would be required by Nov. 15. "The premier supported this call, as did RNAO," says CEO Dr. Doris Grinspun, adding the association has been calling for mandatory vaccination for all health-care workers since July. The premier is also aware that some large hospitals in Toronto, Windsor and Ottawa have already said they will move ahead with dismissal of those who choose to remain unvaccinated. He supports this position, and yet will not mandate it across the province."
RNAO knows the main reason health-care workers, especially nurses, in Ontario are leaving their work is because of Bill 124, not mandatory vaccination. Premier Ford has made the wrong move – one that puts many individuals at increased risk.
Read the official media release for RNAO's full response.
Sign and share RNAO's Action Alert to demand Premier Ford reverse his decision and mandate COVID-19 vaccinations for all health-care and education workers.