RNAO commemorates National Indigenous Peoples Day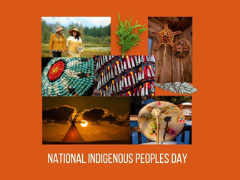 June 21 marks National Indigenous Peoples Day and the summer solstice, and is part of National Indigenous History Month. Through genuine and good faith efforts to learn the truth and reconcile with our past, RNAO attempts to honour the histories, traditions and knowledge of First Nations, Inuit and Métis Peoples across Canada.
The unmarked graves of more than 1,800 Indigenous children found buried on the sites of former residential schools in Canada echoes the truth that cultural genocide occurred. RNAO continues to call on all levels of government to support and fund the 94 calls to action outlined in the Truth and Reconciliation Commission's 2015 report in a timelier way – especially those focused on residential schools – and the calls for justice outlined in the report on the missing and murdered Indigenous women and girls.
Through its partnerships with Indigenous communities and health organizations, RNAO commits to continue building and strengthening relationships to deepen its understanding of Indigenous knowledge and ways of knowing. RNAO's efforts in support of Indigenous communities can be found on its Indigenous Health and RNAO In Focus theme web page. All are invited to visit and share feedback.
RNAO encourages everyone to join today – and every day – in self-reflection, ongoing learning and recognition of the traditions and knowledge of First Nations, Inuit and Métis communities.