RNAO's response to the 2022 provincial Speech from the Throne and budget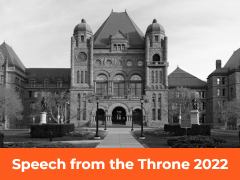 On Aug. 9, Hon. Elizabeth Dowdeswell, the lieutenant governor of Ontario, delivered Ontario's Speech from the Throne before Minister of Finance Peter Bethlenfalvy re-tabled the government's spring budget. In response, RNAO issued a media release.
RNAO commends the government for calling on the College of Nurses of Ontario to expedite applications of internationally educated nurses, however, more action is needed to address the nursing crisis. RNAO President Dr. Claudette Holloway says "dealing with the IEN backlog is a very important step the government must take, immediately. The other is repealing Bill 124. (The bill) only exists in Ontario… (and) is a major retention barrier."
RNAO CEO Dr. Doris Grinspun adds that Ontario has the capacity to build career paths for nurses as a retention strategy and says "the alternative is grim…When hospitals don't have enough RNs to deliver care in their ERs and ICUs, people die."
The release also highlights the need for the government to double the rates for the Ontario Disability Support Program (ODSP) rather than the mere five per cent increase the minister of finance promised. "The 400,000 Ontarians dependent on this assistance are living in utter poverty and this increase will do little to change their lives," says Grinspun.
Read the official media release and sign the following Action Alerts to demand action from the government:
For all of RNAO's media releases, please visit its newsroom.