RNAO's ninth-annual NP Knowledge Exchange Symposium (Nov. 15)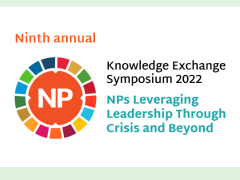 RNAO invites all of its NP members and NP students to celebrate National NP Week (Nov. 13-19, 2022) at its virtual NP Knowledge Exchange Symposium on Tuesday, Nov. 15 from 9 a.m. to 4 p.m. ET. This year's theme is "Leveraging NP Leadership Through Crisis and Beyond."
With a variety of engaging sessions and guest speakers, the symposium will explore the critical role of NPs in bolstering care delivery across all health sectors, as well as their vital contributions to rebuilding and sustaining a vibrant and effective health system.
Out of an abundance of caution, the symposium will proceed as a virtual event this year.
Register now to secure your spot at this practical and powerful event that will educate, acknowledge and energize all NPs.
The event is free for all RNAO members. Non-RNAO members can join now to attend the NP symposium for free and gain all other membership benefits from RNAO, including professional liability protection (PLP).