RNAO's 2022 provincial election platform released at 22nd annual Queen's Park Day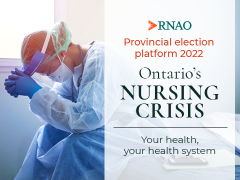 On Feb. 24, RNAO released its 2022 provincial election platform during its annual Queen's Park Day event. The platform, titled Ontario's nursing crisis: Your health, your health system, outlines recommendations in five priority areas: environmental and social determinants of health, nursing, care delivery, and fiscal capacity. RNAO wants all political parties to adopt our evidence-based solutions.
For more information, read the official media release.
When you go to the polls on June 2, be sure to keep RNAO's recommendations in mind to vote for a candidate that will solve Ontario's nursing crisis and improve people's health.
In case you missed it, please watch the media conference on RNAO's YouTube channel.

22nd annual Queen's Park Day
RNAO was pleased to welcome 196 participants to our virtual 22nd annual Queen's Park Day event. Participants included members of RNAO's board of directors, assembly of leaders and other RNAO members, as well as reporters and politicians.
RNAO President Morgan Hoffarth and CEO Dr. Doris Grinspun opened the event with an overview of RNAO's provincial election platform before welcoming the following politicians (based on order of presentations) to bring remarks and answer nurses' questions:
Andrea Horwath, leader of the Ontario NDP and leader of the official opposition
Mike Schreiner, leader of the Green Party of Ontario
Steven Del Duca, leader of the Liberal Party of Ontario
Hon. Doug Ford, premier of Ontario
Hon. Paul Calandra, minister of long-term care
Hon. Christine Elliott, deputy premier and minister of health
During the session, RNAO was thrilled to hear Minister Elliott announce that as of July 1, 2022, NPs will be able to order MRI and CT scans, and perform point of care testing. The news removes a barrier to care that RNAO has been calling for that will give Ontarians better access to the expertise of NPs.
Following the presentations, RNAO welcomed a panel of nurses to speak to its platform's recommendations. President-elect Dr. Claudette Holloway moderated the discussion featuring:
RN and director of clinical services at Inner City Health Associates Dr. Leigh Chapman who spoke to the social determinants of health, including housing, addiction and homelessness
Attending NP in long-term care Sarah Lancaster who discussed the need to improve seniors' care
Canadian Indigenous Nurses Association CEO Marilee Nowgesic who discussed the environmental determinants of health from the lens of Indigenous communities
RN and chair of ONEIG Josalyn Radcliffe who discussed the environmental determinants of health, including climate change and clean water
NP at De Dwa Da Dehs Nye's Aboriginal Health Centre Aric Rankin who shared how the environmental and social determinants of health impact First Nations communities as well as how RNs and NPs can help in the health system response
RN and co-chair of Black Nurses Leading Change interest group Dania Versailles who discussed how to build RN careers in Ontario
For a full recap of the event, please watch the archived event on RNAO's YouTube channel and read RNAO's Twitter thread.