Register now for the 97th #RNAOAGM: June 9 – 11, 2022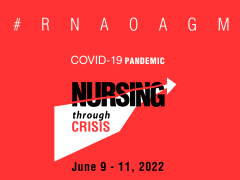 RNAO's biggest event of the year is fast approaching. Join your nursing colleagues virtually June 9 – 11 for many engaging sessions. To explore nurses' experiences over the past year, the theme for RNAO's 97th Annual General Meeting (AGM) is "COVID-19 Pandemic: Nursing Through Crisis."
This is a chance for RNs, NPs and nursing students to gather in a virtual space to reflect on learnings from the past year and look ahead at the opportunities to improve the nursing profession for the current workforce as well as the next generation of nurses.
Participants will hear from members of RNAO's board of directors and special guest speakers on prominent nursing and health topics. The three-day event will feature a session to review and discuss this year's twelve proposed resolutions. RNAO will also welcome incoming President Dr. Claudette Holloway.
RNAO members have spoken and selected the topic for this year's keynote presentation from four options related to nursing and health care. The winner is: How will nursing recover post pandemic and what will our profession look like? Join us on June 11 at 11:30 a.m. ET for the closing keynote session.
For an overview of the AGM, explore the official AGM portal.
Don't miss out – register now for free to secure your spot. Let everyone know you are attending: tag @RNAO in your tweets and use #RNAOAGM.