Read the latest RNJ issue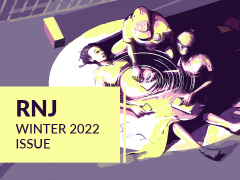 A best practice guideline on 2SLGBTQI+ health equity, a profile on a nursing student who overcame homelessness, two new interest groups, the pandemic's impact on nursing students and more – the winter 2022 issue of RNJ is here, exclusively for RNAO members to enjoy.
The latest issue also includes President Morgan Hoffarth's column on helpful hints to handle competing demands, CEO Dr. Doris Grinspun's conversations with members about In Focus: RNAO's next phase, the popular In the End column, as well as a new BPG corner and policy update.
Visit RNJ.RNAO.ca and sit back, relax and enjoy your reading. Afterwards, please take a moment to share your feedback with the editorial team. On the bottom of the RNJ website, select "Feedback" to provide your thoughts on this issue and the digital platform, as well as suggestions for future issues.