The Ontario government offers nurses $5,000 incentive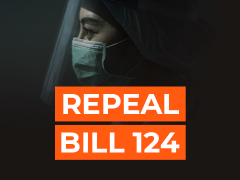 On March 7, the Ontario government announced it will provide nurses in the province with a lump sum retention bonus of up to $5,000 per person, paid by employers in two installments.
In the government's media release, RNAO CEO Dr. Doris Grinspun says, "RNAO welcomes the temporary retention payment as recognition to the selfless giving and exhaustion nurses have experienced during this long and intense pandemic. Nursing is central to the health of Ontarians and our health system. Partnering with government and employers, RNAO will do all we can to ensure robust nurse retention and recruitment so that workloads decrease and Ontarians have timely access to safe and quality nursing care, in all settings and sectors."
Following the government's announcement about the incentive, Grinspun and RNAO President Morgan Hoffarth spoke to the media about the issue. On CP24, Grinspun says "Is it enough to retain nurses? No, and that's why Bill 124 needs to go." Additionally, Hoffarth tells Bill Kelly on CHML, the incentive "is something; it's not the repeal of Bill 124."
Unfortunately, this incentive is a temporary solution for a longstanding and worsening nursing crisis. The government must also immediately repeal Bill 124 to ensure nurses receive fair compensation for their unwavering contributions to Ontario's health-care system. RNAO will continue to stand by nurses to call for the repeal of Bill 124.
If you haven't already, please sign and share RNAO's Action Alert to call on the government to #RepealBill124.