Limited time membership offer: Two months free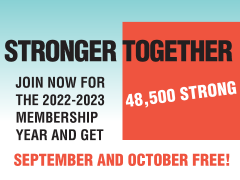 RNAO's two months free offer is back.
Do you have an RN or NP friend or colleague who you think should join RNAO? All they have to do is sign up for next year to get September and October 2022 for free. Membership is valid until Oct. 31, 2023 and includes professional liability protection (PLP) and all other exclusive member benefits.
Tell your RN and NP colleagues to sign up at join.RNAO.ca or call 1-800-268-7199.