Labour Day: Sept. 5, 2022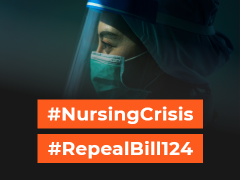 While many will enjoy a long weekend away from work, many nurses and other health-care workers will not get a break, and will instead be caring for individuals across all health sectors.
RNAO encourages everyone to not lose sight of the purpose of Labour Day. Historically, it was recognized as a day for workers to campaign for better working conditions or pay. Alongside its more than 48,500 members, RNAO continues to be a strong advocate for the nursing profession and healthy public policy to improve the working lives of RNs, NPs and nursing students; and Ontario's health system for all.
Nurses must gain the full recognition and respect for our vital contributions to the health and health care of Ontarians. This is why RNAO affirms the call to the premier to immediately #RepealBill124 – wage cap legislation. Bill 124 is a major retention barrier and causing many nurses to leave Ontario or the profession altogether. If you haven't already, join the more than 27,000 individuals who have signed RNAO's Action Alert.
Our deep gratitude to all of the nurses and other health professionals working during the Labour Day long weekend. We stand with you and by you with unwavering commitment to serve you, as you continue to provide person-centred, compassionate and expert care.