Fellowship opportunities: Intent to submit is due Jan. 6, 2022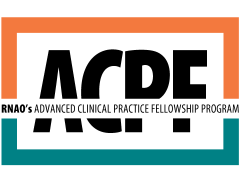 The Advanced Clinical Practice Fellowship (ACPF) program provides RNs and NPs the opportunity to have a focused, self-directed learning experience to develop clinical, leadership or best practice guideline implementation knowledge and skills, with support from a mentor(s), the organization where the RN/NP is employed, and RNAO. This initiative is aimed at developing and promoting nursing knowledge and expertise, and improving client care and health outcomes in Ontario. Clients are defined as individuals, families, groups or communities.

A new request for proposals was issued on Nov. 3, 2021 for a new round of ACPFs. Fellowships can occur any time during the period of April 11, 2022 – Feb. 1, 2023. Fellowships take place for a duration of 450 hours. Get your ideas and team together and apply via our online application.

Important dates:
ACPF information session: Nov. 24, 2021, 10 – 11 a.m. ET
Deadline to notify RNAO of intention to submit a proposal: Jan. 6, 2022
Deadline for proposal submissions: Jan. 13, 2022
For more information and application resources please go online.