Canada Day 2022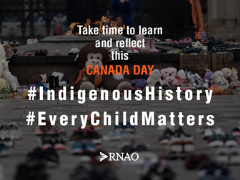 On July 1, RNAO celebrates its partnerships with Indigenous people, communities and organizations, and is grateful for the knowledge and wisdom they share with us as we walk together the path of reconciliation, in a good way.
RNAO is committed to a better future that acknowledges Canada's colonial history and its cultural genocide, and is working toward the health-related calls to action of the Truth and Reconciliation Commission's report through its work and partnerships with Indigenous peoples. RNAO carries out its work and advocacy with humility, gratitude, and acknowledgment of the wisdom, knowledge and spirit of its Indigenous partners. To learn more, visit the Indigenous Health and RNAO In Focus theme web page.
RNAO encourages all Canadians to learn the history of Indigenous peoples, honour the survivors and acknowledge the impact the residential school legacy has had on Indigenous families and communities. #EveryChildMatters
We also take a moment to thank the thousands of nurses, other health professionals and all essential service workers who will be working during this long weekend. Your expertise and unwavering commitment to serve Ontarians is valued and respected.