BPG Clinical Pathways for Long-Term Care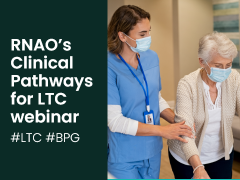 BPG Clinical Pathways were developed in partnership with PointClickCare specifically for the long-term care (LTC) sector. These new evidence-based tools, derived from RNAO's BPGs, were showcased during a webinar held on Jan. 21, 2022. The response from the 150 attendees was outstanding.

Designed in collaboration with senior LTC nurses, BPG Clinical Pathways certify alignment with the Fixing Long-Term Care Act 2021 and also incorporates efficiencies that streamline care planning and reduce the documentation burden for staff. By implementing these tools, LTC homes will ensure staff are providing high-quality, evidence-based care that will improve residents' health outcomes.

RNAO will be launching a province-wide initiative in the spring of 2022 to disseminate these digitized Clinical Pathways to Ontario's LTC homes. For more information or to watch the video recording of the webinar, please see RNAO's Clinical Pathways for LTC.