Annual Queen's Park on the Road continues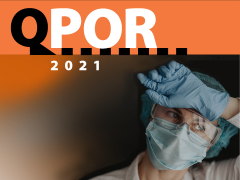 Queen's Park on the Road (QPOR), one of RNAO's annual signature political action events, began on Nov. 9 and continues to engage both members and members of provincial parliament (MPP) to discuss the RN understaffing crisis, its impact and recommended solutions.
To support the meetings, RNAO has developed a virtual toolkit to guide members' conversations with local MPPs. RNAO's policy and political action network officers (PPAN) from chapters across Ontario have had the opportunity to speak about their personal experiences amid the shortage and ask politicians for solutions. They've also discussed as strategies on how to address nursing supply issues within the legislature, including the repeal Bill 124 to increase nurse compensation.

Since November, RNAO members have hosted more than 20 virtual meetings with MPPs, with more coming up soon. Thank you to the following MPPs who have met virtually with RNAO members so far (in alphabetical order):
MPP Teresa Armstrong
MPP Doly Begum
MPP Jessica Bell
MPP Rima Berns-McGown
MPP Peter Bethlenfalvy
Hon. Paul Calandra
MPP Steven Del Duca
MPP Catherine Fife
MPP Jennifer French
MPP Logan Kanapathi
MPP Belinda Karahalios
MPP Bhutila Karpoche
MPP Vincent Ke
MPP Terence Kernaghan
MPP Sol Mamakwa
MPP Suze Morrison
MPP Lindsey Park
MPP Peggy Sattler
MPP Todd Smith
MPP Peter Tabuns
MPP Daisy Wai
MPP Kathleen Wynne
MPP Jeff Yurek
RNAO and some of its chapters have shared pictures and details from the above visits on Twitter using #QPOR.
For more information about how to get involved and host an event, visit the QPOR webpage or contact health policy coordinator Ann-Marie Morris at amorris@RNAO.ca.