What did you think about the latest RNJ issue? Share your feedback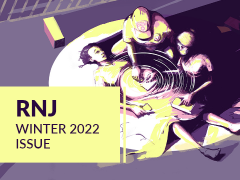 The winter 2022 edition of RNJ features stories about the Promoting 2SLGTBQI+ Health Equity best practice guideline, two new interest groups, the pandemic's impact on nursing students, a profile on a nursing student who overcame homelessness and more.
RNAO values your feedback. After reading RNJ, please share your thoughts and impressions of the latest issue via the feedback form.