Webinar: RNAO's Clinical Pathways - Digital Clinical Decision Support Tools for Long-Term Care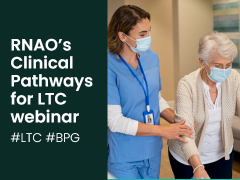 Many long-term care (LTC) homes in Ontario have already implemented RNAO's best practice guidelines (BPG) and optimized outcomes for residents, staff, and their health care facilities. To advance this work, RNAO has recently partnered with PointClickCare to facilitate access to a digital version of the BPGs called clinical pathways, which are clinical decision support tools for LTC.
At RNAO's webinar event on Jan. 21, RNAO CEO Dr. Doris Grinspun and others discussed how these clinical decision support tools will optimize resident care and help homes meet key requirements of the proposed Fixing Long-Term Care Act 2021. RNAO also shared its plan to launch a province-wide initiative in the spring of 2022 to disseminate these digitized clinical pathways to Ontario's LTC homes.
In case you missed it, the webinar is available to watch on RNAO's YouTube channel.
&nbsp