Video news updates – April 2022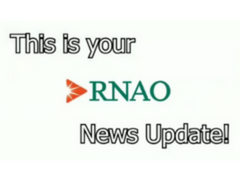 To keep its followers updated on important news and activities, RNAO shared the following video news updates on Twitter:
April 5: The Ontario government's Plan to Stay Open, the pope apologizes to Indigenous peoples, Ontario heads toward a sixth #COVID19 wave, and RNAO's 2022 provincial election platform.
April 19: RNAO urges the Ontario government to keep mandatory masking in high-risk settings, Spain celebrates 10 years of its Best Practice Spotlight Organization program, RNAO members help at the Polish-Ukrainian border, RNAO co-hosts all-party virtual debate, and the upcoming virtual NP Institute.
For more videos, check out RNAO's YouTube channel and follow RNAO on Twitter for video updates. Stay tuned for more episodes.