Sept. 9: International Fetal Alcohol Spectrum Disorder Awareness Day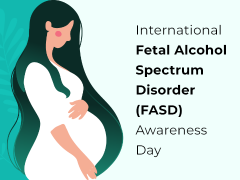 Each year on Sept. 9, RNAO recognizes International Fetal Alcohol Spectrum Disorder (FASD) Awareness Day to promote and improve prevention, diagnosis, and support for people living with this disorder and their families. FASD is a lifelong disability that affects the brain and body of individuals who were exposed to alcohol in the womb.
At 9:09 a.m. local time every Sept. 9, one minute of silence is observed around the world. This time and date represent the ninth minute of the ninth hour of the ninth day of the ninth month, since human gestation is typically nine months.
In Canada, the estimated incidence of FASD each year is nine in every 1,000 live births. And, FASD affects approximately four per cent of Canadians – more than autism spectrum disorder, cerebral palsy and Down syndrome combined.
With early diagnosis and support, many children with FASD can live very full and enriched lives. Nurses play an important role in helping to prevent FASD and in supporting those living with it. And, families deserve access to support and services as early as possible to deal with the day-to-day issues of FASD.
In 2019, RNAO called on the Ontario government to choose evidence-informed alcohol policy to reduce the harms that alcohol causes to individuals, families and communities. In 2012, RNAO members unanimously passed a resolution to advocate for an integrated FASD provincial strategy to address prevention, early diagnosis, and evidence-based interventions and supports for individuals and families. RNAO has also held a symposium, published a story in RNJ and engaged with media about FASD. In collaboration with other organizations, RNAO will continue to sound the alarm on this preventable disorder to improve the health and daily lives of children and adults with FASD.
Learn more about FASD on the CanFASD website.
Share a message of support on social media by using the hashtag #FASDDay.